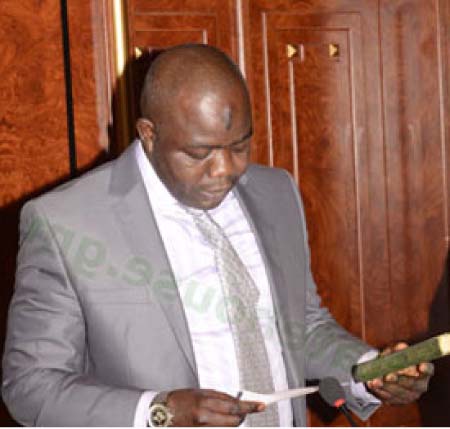 The Ministry of Agriculture (MOA), in collaboration with the Central Project Coordinating Unit (CPCU) and its line departments, recently concluded a three-day retreat at the Tendaba Camp.
The retreat, funded by the Gambia Commercial Agricultural Value Chain project (GCAV), was aimed at taking stock of their achievements, challenges, constraints, and to carve the way forward for a better and effective planning through harmonising.
In his address, the Minister of Agriculture, Ismalia Sanyang, said the massive response was an indication of the importance people attached to the retreat.
He stressed that if they want to succeed they need to plan better and in the process of planning, they need to be realistic and proactive.
He also emphasised that as a ministry, they need to create a synergy between the different departments, and be taken very seriously.
"What we envisage from this retreat is to come up with a document that we are proud of in terms of value and focus," the Agriculture minister stressed.
In his remarks at the retreat, the permanent secretary 1 at the Ministry of Agriculture, Sait Drammeh, underscored the importance of the retreat, considering that it was high time the sector proved its relevance to the general public.
"We need to prepare a sectoral annual work plan that will demonstrate tangible results," he said, adding that the gathering should be nurtured so that, occasionally, the ministry could converge, discuss and review progress, budgetary constraints and the way forward.
According to him, the retreat emanated from the meeting held between the Minister of Agriculture and the senior management staff and a team of consultants.
To this end, he continued, the Ministry of Agriculture thought it necessary to organise a retreat workshop so as to come up with an elaborate annual work plan budget, with clearly defined activities, targets, timelines, key performance indicators and budget for the period 2016.
He challenged participants to work hard and produce a realistic 2016 Annual Work Plan Budget (AWPB) that reflects the intentions and objectives for tangible results.
The coordinator of the Central Project Coordinating Unit (CPCU) at the Ministry of Agriculture, Momodou Mbye Jabang, stressed the importance of the retreat, which he said was meant to look at all in the basket that is available for the agricultural sector, and to prioritise and harmonise the efforts to make 2016 become different in boosting agricultural production and productivity.
Read Other Articles In Article (Archive)