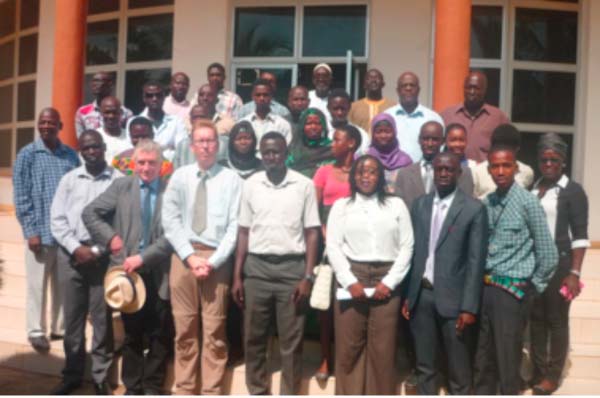 Network of Agricultural Communicators-The Gambia in partnership with the Danish Food and Agricultural Journalists Monday launched and signed an 18-month Agricultural Journalism Education Project dubbed "Empowering Farmers through Effective Agricultural Journalism."
The project aims to train 26 radio journalists, 80 per cent of whom are from the community, on effective agricultural reporting in a bid to helping the Gambia government to attain its agricultural visions.
The project, which runs from November 2015 to April 2017, also aims at empowering farmers together with a well-equipped media that have the ability to influence positive change in the society.
Speaking at the launching ceremony held at the NaNA conference hall,
Amadou Bah, FAO communications officer, said sustainable development could not be achieved without food security.
Informed farmers would indeed contribute more meaningfully towards the attainment of the national development blueprints as per the PAGE, Vision 2016, the SDGs and Vision 2020, he added.
In this age of the internet and cell phone, community radio remains a powerful way for people to connect, learn and discuss issues important to their lives, he noted, saying:"Given the popularity of radio talk-shows in this country, radio has the power to help give farmers the information they need to improve their lives and livelihoods."
A national media survey in 2004 showed that radio is the first choice of information for most people in The Gambia, Mr Bah stated.
Due to high illiteracy rate among the Gambian farmers, the media, especially community radios, remain a useful channel to empower the farming community and all other actors along the agriculture value-chain for the attainment of national set priorities for the sector.
However, he added, there was need for improved reporting and programming on agriculture at the community, public and private radio stations using diverse local languages with a view to reaching out to all segments of society.
He said despite improved knowledge on best farming practices among agricultural staff, it was not uncommon to see people still practising unsustainable and unproductive farming practices in The Gambia resulting in low yields and entrenched poverty.
"Increasing crop production and productivity alone will not lift our farmers and their dependents out of poverty," Mr Bah remarked.
"One of the main problems preventing our farmers and the economy from benefiting more from our groundnut produce is afflotoxin," he said, adding that through effective radio programmes, farmers and all actors in the groundnut value-chain could be enlightened to adopt practices that would mitigate the problem.
Per Hansen, a representative of the Danish Food and Agricultural Journalists, in his remarks, said without willingness and a positive attitude from radio leaders, the project would not have come through.
They are convinced that by means of high quality agricultural journalism farmers would be empowered, he stated, adding that good journalism would provide farmers with information they could use to grow more and better crops, find better access to the market and get better pay for their products.
He said that when farmers experience that they could use new knowledge to improve their living conditions, their sense of self-reliance would grow stronger and would have a higher degree of trusting themselves in being able to take care of their own situation.
Dawda Bayo, vice president of Network of Agricultural Communicators (NAC), described agriculture as an important sector in The Gambia.
He thanked the Danish Civil Society for Development (DFAJ) the Ministry of Agriculture and the Gambia Press Union for the initiative.
Saikou Jammeh, GPU Secretary General, in his remarks, said GPU recognises the importance of capacity building for journalists and are also into advocacy.
As journalists, to be able to educate and inform others, they have to be educated and informed first, he said.
Ms Sainey Ceesay-Jammeh from the Ministry of Agriculture said media has a big role to play in promoting agriculture.
Read Other Articles In Article (Archive)