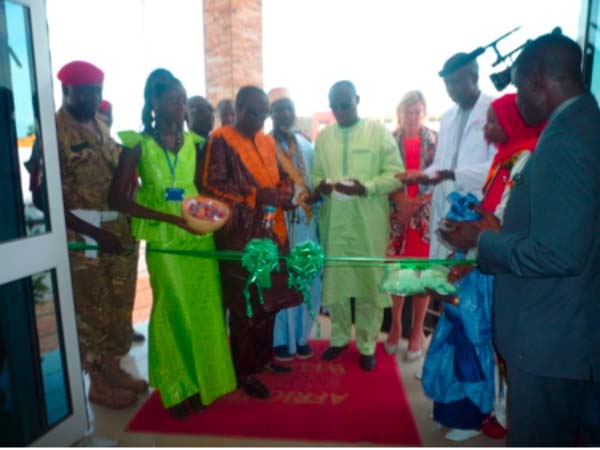 The AfricMed Clinic Service was yesterday inaugurated as part of the ongoing celebration of the 20th anniversary of the 22nd July Revolution, at a ceremony held at Brusubi.
In his inaugural speech, the Health Minister, Dr Omar Sey, informed the gathering that the event marked a significant development in increasing access to quality health services, in particular maternal and child health services.
Access to an essential health care package for the population is considered as one of the key pillars for poverty reduction in The Gambia, said Minister Sey.
He added that improved quality health care services provision to the population contributes to the quality of life of the population.
There has been an improvement in both physical and financial access to health care due to the rapid increase in the number of facilities across the country, he added.
Minister Sey further stated that the event is testimony to the policy orientation of the current national health policy under his ministry, which is that health is wealth.
He called for stronger partnership and coordination in the health sector with donors, the private sector, NGOs and the community in health service delivery.
Several years ago, stakeholders such the AfricMed signed an MoU with his ministry for the realization of the policy objective to accelerate quality health services provision and the attainment of universal health coverage, he said.
"I want to confirm that AfricMed have met all the requirements to operate as a private clinic in the country," he said.
He added that the government since July 1994 identified the health sector as one of the priority areas of his intervention.
In 20 years of the revolution, five magnificent public sector hospitals have been built which are fully operational.
AfricMed CEO or Managing Director Dr Omar Jagne said part of their aim was to create a first-class healthcare service for all Gambians and members of the community.
It was also to create employment opportunities in line with President Jammeh's aspirations for the country as contained in Vision 2020.
Dr Jagne added that the clinic provides 24-hour service with a doctor available all the time. It also receives all emergencies, and can also provide basic first response treatment and onward referral as necessary.
The clinic has a staff complement of seventy-three with a management team, CEO and other departmental managers, among others.
It conducts training in cardiopulmonary, intubation and ventilation of patients, and aims in the long-term for more intensive capacity building to provide a more improved quality health service.
AfricMed's development partner from the Netherlands, Lenny Berker, who also serves as the founder and president of the Ditch Foundation GamMediCare, said that her foundation would continue to support the hospital to give the best healthcare service in The Gambia.
Read Other Articles In Article (Archive)