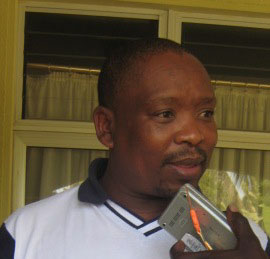 Africa Softball Prexy Plans to Include Sport in All Africa Games
The President of African Softball Federation, Marumo Morule, is strongly habouring plans to make sure that softball becomes one of the keenly contested sports at continental level.
Since the introduction of the game on the continent several years ago, softball is yet to attain the status of a highly developed sport in Africa.
Cognizant of this fact, Marumo Morule during the just concluded African forum held in Banjul last week disclosed to Pointsport that the African body together with the International Softball Federation is setting the stage to ensure that the game of softball is fully developed and promote the spirit of competitiveness among members country.
"We will ensure that more regional games are introduced to promote and embrace new member countries. This will help increase our membership in Africa," he explained.
Being one of the latest countries to join the movement, the Africa federation boss also disclosed that the ISF together with the African body is ready to work with the Gambia National Softball Association towards the attainment of desired goals.
Softball was born in the United States and grew into an international sport that is now been played by millions in more than 100 countries.
 The game became an Olympic sport in 1996 but few years later it failed to appear in subsequent editions.
The Gambia National Softball Association (GNSA )which came into being barely a few months ago is taking the leading role of spearheading the campaign of promoting the development of the game and also for the game to be included in the 2016 Olympics after losing that status a few years ago.
Efforts to back Softball in the 2016 Olympics is in high gear and the International Softball Federation President Don Porter is of the believed that continuous efforts  are needed by member countries  to bring Softball before their Olympic committee, Sport council, IOC member and the media, to show  that the softball  is in fact a global sport.
The Banjul forum hosted by The Gambia National Softball Association also marks the official launch of the GNSA. A two- day coaching clinic was also held at the Kairaba Beach Hotel.
Read Other Articles In Article (Archive)