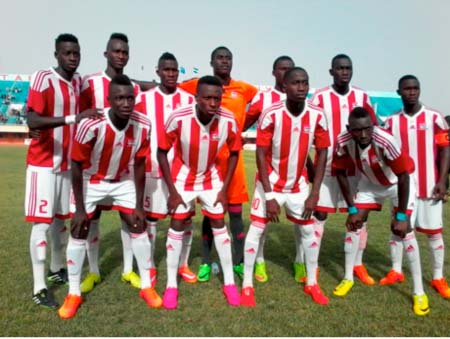 The Gambia Under-20 team on Saturday beat Sierra Leone by 2 goals to nil in the ongoing 2017 African U-20 Youth Championship qualifiers played at the Independence Stadium in Bakau to book their place in the second round of the qualifiers.
Goals from Pa Omar Babou and Pa Omar Jobe in the 31st and 68th minutes of the game were enough for the young Scorpions to record a convincing 4-0 aggregate over the Shooting Stars in the two legs, to boost their chances of securing a spot in the competition to be hosted by Rwanda in 2017.
Coach Omar Sise's charges who thumped Sierra Leone 2-0 in the first leg clash played in Makeni a fortnight ago, registered the same score-line in Banjul to end their hope of securing a place in the tournament proper.
Sierra Leone's midfielder Sulaiman Jalloh was sent off in the dying minutes of the game for a foul on Gambia's skipper Abdoulie Jallow after being initially booked.
The Darling Scorpions, who eliminated fellow West Africans, will now face Morocco in the second round of the qualifiers.
The first leg will be played in Banjul in the weekend of 20-22 May 2016 while the return leg will be hosted by the North Africans in the weekend of 10-12 June 2016.
Omar Ceesay, Gambia's U-20 head coach, speaking to reporters at a press conference shortly after the encounter, said they prayed for victory, worked for it and God has given it to them.
He said they are proud of the boys and everyone who left everything to go to the stadium to support them.
Coach Sise said it was a good game in the eyes of the fans but as far as work rate is concerned it is not a very good game for him because in the beginning of the game the boys were not taking their time to play as they (the technicians) wanted, but was quick to add that such a thing happens sometimes.
Technically the boys are good, he went on, saying the boys did their best and could have scored more goals but the Sierra Leonean team goalkeeper was "outstanding".
"The most important thing is no matter how we win," Sise, who said they put their hope on God, said.
When it was put to him that the Moroccan Under-20 team coach was at the stadium to watch the Gambia-Sierra Leone game, the Gambia Under-20 gaffer said he would not count a lot on his opponents as they have their strategies and he has his.
"I always pray to God that my boys stay with the strategy I am brining in the game," he went on, saying he knew if his boys would work well according to his strategy and with the help of God, "we will get victory against Morocco".
"Morocco probably got the opportunity to be here and watch us play but it means less to us," he stated, adding: "We have been working on them."
He said for him and his boys what matters is the 90 minutes. "We put our hope in God and he would always be with us."
Also told that North African teams have been a problem to Gambian sides, he said they would work hard to ensure Gambia become a problem to North African teams instead,
He pointed out that discipline, hard work and support from GFF, the Ministry of Youth and Sports, journalists and fans have contributed to the success of his team.
He urged everyone to continue to support the boys but also to be patient with them as football needs time and The Gambia have came from somewhere.
"We need to have patience and give the boys courage if we want to get to where we want," he remarked, saying they would keep improving.
They would work on the next game as it comes to them, he added, saying if he has a winning team "there is no one who can make me change it".
Charlie Wright, Sierra Leone's U-20 head coach, in his comments, said they are just trying to redress after being affected by Ebola for 2 years, adding that the disease kept them aback.
It was difficult to get his boy together to partake in the U-20 qualifiers, he said, adding that his boys are young and are trying to build a team, which is not easy.
He stated that 95 percent of his players are immature and lack competitiveness.
He added that they were not play matches locally or international especially because of the 'Ebola crisis' in their country, saying they had to start from the grassroots to develop the players.
"I believe it is not the end for us as; we will maintain these boys so we can graduate and expose them," he said, while thanking God for making his country now Ebola-free.
"Football is back to our roots again as we are playing home leagues as well as international matches," he also said.
Coach Wright wished The Gambia luck in the rest of the qualifiers, saying: "We have our eyes on The Gambia now that we are out and hope they will make us proud."
Pa Omar Babou, who registered two goals against Sierra Leone over the two legs, said football is about hard work, dedication and discipline, which is what they have in the team.
The youngster stated that they knew the tie was over in Sierra Leone but they wanted to win back at home for the fans.
He observed that the turnout of fans was not very impressive against Sierra Leone but hope the stadium will be full to capacity in their next game.
Babou said he had seen the oneness in the team, which is what he likes about the team. We are like family - we go to training and give our all and we love the country, he said.
"It is a while we have not tasted victory at home and thank God it has happened,"  he concluded.     
Read Other Articles In Article (Archive)