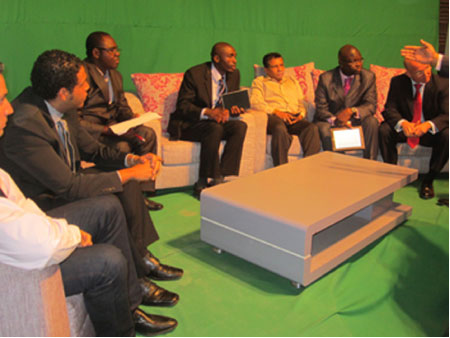 The Gambia will play host to the historic launching of the most ambitious telecommunications project, the African Coast to Europe (ACE) submarine cable, on 19 December 2012.
According to officials, the US$700 million submarine cable will ultimately extend over 17,000 km from France to South Africa, at depths close to 6,000 meters below sea level, linking Europe to Africa with a high-capacity broadband connectivity.
The ACE submarine cable contributes to a comprehensive solution that would address the connectivity gaps in the country focusing on international, regional and national connectivity to enable the creation of a fully integrated network, which will provide affordable high-speed connectivity to the country.
The ministry of Information and Communication Infrastructure (MoICI) yesterday held a press conference in Kanfing, to formally introduce ACE to The Gambia and highlight its benefits and potentials as a key driver of national and regional social and economic growth.
Lamin Camara, deputy permanent secretary (MoICI), said that the project comprises 16 companies in 23 countries in Europe and Africa led by France Telecom-Orange.
He revealed that the country will be hosting the launching of the ACE on 19 December 2012, which will bring in ICT companies from different parts of the world.
DPS Camara indicated that the country received a grant from the World Bank to supported their participation, noting that the project involved both the public and the private sector.
He also highlighted that ACE will give opportunities to countries to have access to the international broadband network at low cost, and that it will promote a better network.
He added that it cost the country US$25 million to have the ACE, with 49 percent put in by the Gambia government and 51 percent by the private sector. He further highlighted criteria such as infrastructure, security that were considered among competitors to be considered to be the host.
According to him, with the ACE cable, countries will have direct access without going through any transits.
Almamy Gassama, Gamcel General Manager, said that with the ACE cable, data can be carried along the coast of Africa, as well as giving accessibility to calls at convenient and cheaper rates.
"Once it is launched, accessibility to data will be a thing of the past," said Mr Gassama.
Papa Yusupha Njie, CEO Unique Solution, commended the government for the effort in playing host to the historic development. He revealed that the model is a 25-year project, noting that it has also given the opportunity for the private sector to participate in it.
"Many studies have shown that a proliferation of a submarine cable in any country is a key economic indicator," he said, adding that the broadband coming to The Gambia will create jobs, and improve the quality of education, among others.
He was further optimistic that the ACE will make Gambia the hoped for call center, noting that the private-public partnership in the country will be one to talk about in years to come.
Meanwhile, Yves Reggeri, the chairman of ACE, was also quoted by Africa Business Magazine as saying: "This is a milestone in the transformation and advancement of telecommunications in Africa."
Read Other Articles In Article (Archive)