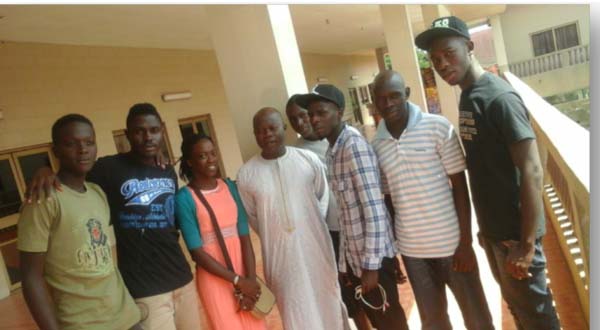 It could be recalled that a group of twenty-seven (27) young Gambians,25 young Nigerians and 23 young Ghanaians all left their shores on Thursday 27 August 2015 for a 6-month training to develop their skills and experiences as part of a Youth Traineeship Exchange Program (YTEP).
The program is an initiative of Ace Communications Executive, which has awarded full scholarships through its enabling partner the Directorate of Technical Cooperation of Africa (DTCA).
The YTEP program is designed to promote regional integration and to create youth employment by recruiting young people between the ages of 21 – 30 years particularly from the provinces/rural areas to travel to a country different from their country of origin for six months to be trained in one of three vocations in the following countries:
Ghana – Carpentry; The Gambia – Tailoring, and Nigeria – Agriculture (Poultry, Horticulture and Livestock)
Two months into the program, young promising youths have settled in to their various locations and have begun training at reputable institutions, which are providing formal training in addition to the apprenticeship program.
In The Gambia, Ghanaians and Nigerians have gathered to learn tailoring mainly and are being taught by partners such as the President's International Award (PIA) and Malick Mendy Tailoring. After the first three months they would be attached to several tailoring businesses to further hone their skills.
In Ghana, Gambian and Nigerian participants started off at furniture exporting businesses and now some are fully engaged at a carpentry skills development centre coordinated by the Ghana Association of Visual Arts while others are attached to other carpentry businesses.
In Nigeria, Gambians and Ghanaians are hosted in Nasarawa State at the Salri and Layuza Farms to undergo training in their areas of specialization
All hands are on deck as participants demonstrate enthusiasm to learn and cooperate with their instructors in order to gain skills that they can later apply upon their return to their hometowns/villages.
It is envisioned that each participant will gain entrepreneurship skills, appreciate the value of their learning and be equipped with knowledge that will improve their prospects to become self employed or employable.
Some of the participants also aim to respond to the scarcity of specific products due to lack of skilled and producing entrepreneurs in their respective communities.
Musa Baldeh, a youth from Basse who is educated but chose to stay and work in his village is today in Nigeria. He has been working on his family business in livestock rearing, has always wished to learn more from veterinarians particularly relating to animal care but this opportunity had always proven hard to get . Today he and some of his colleagues are working as apprentice at a Veterinary Clinic where they sometimes go with Doctor Umar M. Guru to the field to carry out field work as well as receive lectures from him once a week.
In Ghana in the midst of the twenty-four men lies a very confident and motivated young aspiring lady carpenter Jainaba Manjang. Despite having no prior carpentry experience and having faced opposition from her family for choosing this field, she is pursuing her dream in Accra. Jainaba was raised in a home hosting a carpentry workshop but was not given any chance to feed her curiosity in the field. Today she has gained the opportunity and support of her mother to learn carpentry.
She hopes to return and open her own workshop and employ youths in a male-dominated profession; talking about changing the status quo!
In The Gambia, there is the interesting story of Sonny Osei Owusu, a young aspiring Ghanaian tailor who has never sat behind a sewing machine but who aims to learn the popular Senegambia clothing creation with the hope of returning to work and train others in his community. His incredible skills, vision and creativity has left his instructors bemused and impressed at the same time.
ACE and its country supervisors and partner organizations in all three countries are working tirelessly to help all participants achieve the objectives set out in the program and enable them gain a memorable apprenticeship experience.
As a youth driven company, ACE Communications Executive aims to continue to tirelessly take action to raise funds for the empowerment of the African Youths through capacity building programs.
It is our aspiration to continue to complement the efforts of West African governments by providing initiatives that will continue to provide the youth opportunities and inspiration to become skilled and self-reliant.
Read Other Articles In Article (Archive)