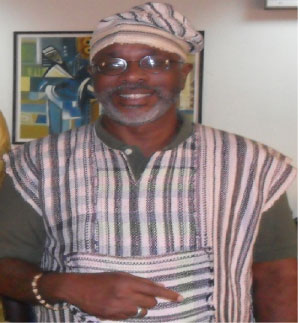 In the absence of independent, free and viable press, the civil society will virtually suffer, a visiting veteran US-based journalist has said.
Herb Frazer, who spoke recently to The Point in an exclusive interview, said:" It seems to me the wider community like the civil society will  suffer in the absence of free and independent press  in this country and not only a journalist  is at risk but the civil society is also at risk."
The US-based journalists with over 40-year experience noted: "The journalists collectively need to reach out to the government for dialogue and say 'look, we are here not to oppose or support the government; we are just here to participate in national development and serve as watchdog to enlighten the society as whole."
Mr Frazer also said: "If the press is independent, free and viable, then democracy survives, if the democracy is striving then things move forward. These two are connected; you cannot have the one without the other. So I think the independent press support a free society."
The lead media consultant in the just concluded election training for Gambian journalists and media coach said: "The fundamental role of journalists is providing accurate, timely, in-depth information to the citizens in any democratic society.
He urged journalists to separate opinions from facts as it has no room in the 21st century journalism, adding that journalists doing a dual role can probably be seen in this journalism culture but not applicable in the US.
Frazer said that covering elections in any country involves numerous tasks for journalists, adding: "I urge journalists to expand their pages during elections to give fair and balanced coverage to all candidates contesting the polls."
He also calls on journalists to profile various candidates during elections for the benefit of the electoral and general public, saying that it is the journalist's role to inform the public about the happening.
"Journalists should be independent, and state only the fact, representing each candidate's position in very fair; balance; and accurate manner," he said.
"During election, figure out and analyse, look at the position of all candidates of all political parties and analyse who has the vision for the country and who most importantly based on whether incumbency or not, analyse who has the best position."
Frazier, who is an international media consultant, a former correspondent and editor of several U.S. newspapers, including the Charleston (SC) Post and Courier, and a former Knight International Journalism Fellow, said that during elections politicians promise anything to get elected; so it is the role of journalists to dig the truth whether those promises have been fulfilled or not.
He believes that poor wages are among the contributing factors that make journalists in Africa vulnerable and to be influenced; so the consequence is you have to be careful, mindful, understand the code of ethics, saying the other factors are lack of training and resources.
Journalists, he noted, need to respect themselves and behave in a professional manner; there and then others will respect them. "If you respect yourselves as professional people others will respect you."
Read Other Articles In Article (Archive)