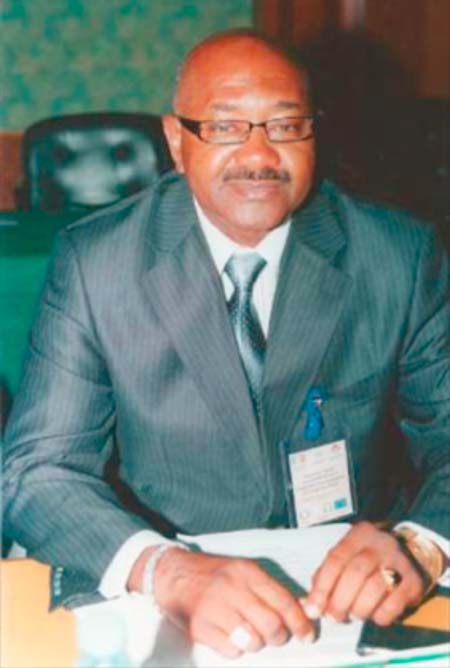 Born on May 1st 1958 in Banjul to M.C Jallow one time Health Minister and Parliamentarian under the first republic, Abdou M.C. Jallow passed away on Monday 15th February 2016 at his former residence in Kotu.
Upon completion of his high school education from St. Augustine's High in 1977, Abdou joined the Customs Department on 16 February 1978 while he was buried on the same day exactly 38 years later.
A career civil servant cum-Customs Officer, Mr Jallow underwent series of trainings in Enforcement Intelligence in Japan, Customs & Excise Management in the UK, and Enforcement of Intellectual Property Rights in the USA among a host of other relevant trainings that made him to stand out in revenue mobilisation. In addition, these trainings also enhanced his performance where he held key and strategic positions across the various customs posts in the country.
As Deputy Commissioner in charge of Enforcement and until recently Operations, Abdou represented the Commissioner General in the National Security Council which is chaired by the Vice President.He also played a critical role in the bi-lateral meetings between GRA and the Senegalese Customs administration on trade-related matters.
If the adage, that a healthy mind in healthy body is anything to apply to Abdou, it is also important therefore to note that he played football and created a niche for himself in the field of play.
He won the hearts of many with his skills and many footballing styles that a match without Abdou is not as interesting. I remember him play in the veterans football match staged about three years ago and represented the country in similar engagements abroad. He was President of the Gambia Football Veteran Association.
Abdou M.C. loved smart dress and often adorned himself in clean dresses. He never wore his uniform which was properly ironed without his name tag attached and when he puts on African or suit and tie, he never walked without distinction and failing to attract people's attention.
He was a charming personality who mixed with colleagues and the ordinary people in society. He will surely be missed for his charm and sweet jokes which used to leave people laughing.
Mr Jallow is survived by wives and many lovely children who were his very good friends. Until we meet again, rest in peace Koto Abdou.
Read Other Articles In Article (Archive)