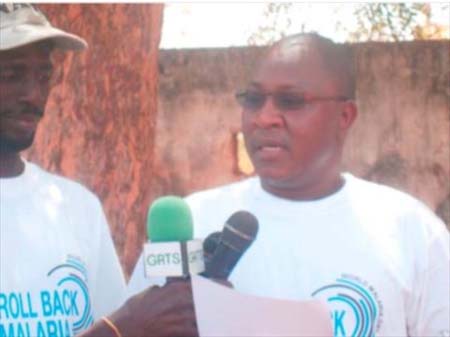 The programme manager at the National Malaria Control Program, Mr Balla Kandeh, revealed that 91% of reported deaths from malaria occur in sub-Saharan Africa where children under 5 years of age bear most of the burden.
He made this statement while delivering a speech during the launching of the Seasonal Malaria Chemotherapy (SMC) project at Wassu in the central River Region last Wednesday.
The NMCP manager said that in 2010, it was estimated that 86% of all malaria deaths occurred in this age.
"Therefore launching of this SMC project clearly demonstrates the level of partnership established over the years between the Ministry of Health and the National Malaria Control Program (NMCP)," he said.
Mr Kandeh also spoke about the need for collective effort from all sectors in the society to combat malaria.
He also defined SMC as the intermittent administration of full treatment cause of anti-malaria medicine during malaria season, to prevent malaria illness with the objective of maintaining therapeutic and malaria drugs concentration in the blood throughout the period of greatest malaria risk.
 Mr Kandeh also seized the opportunity to thank the regional governors, community, regional heath directors and as well as UNICEF and CRS for providing the fund for the implementation of this new strategy.
For his part, the Governor of CRR Omar Khan, said that according to 2010 malaria indicator survey, the CRR and URR have the highest level of severe anemia (13%) and malaria parasite (about 10%) prevalence among children age 6  to 59 months.
"The reason for the high levels of poverty, severe anemia and malaria parasite in these two regions are the limited availability of social and health services compared to the other region," he noted.
"There is the need for more targeting in these areas through SMC as it is expected that this complementary strategy will contribute significantly in the reduction of the malaria burden in the country,"Governor Khan stated.
He also seized the opportunity to thank the National Malaria Control Program through the Ministry of Health and Social Welfare, and its development partners - UNICEF, MRC, WHO, CRS – "for supporting this new strategy which will go a long way in reducing or combating malaria in our society".
He also urged the community to take ownership of the project as malaria becomes a major problem in the regions.
Also speaking, the Regional Health director of CRR North Baba Gale Jallow, said: "As we launch the 2015 seasonal malaria Chemo-prevention campaign, we must soberly reflect on the progress made and renew our collective efforts and commitment towards eventually eliminating of full treatment cause of anti-malaria."
He said malaria remains a major public health problem with "an estimated burden of 198 million clinical episodes and 584000 deaths worldwide attributable to malaria in 2013". 
Read Other Articles In Article (Archive)