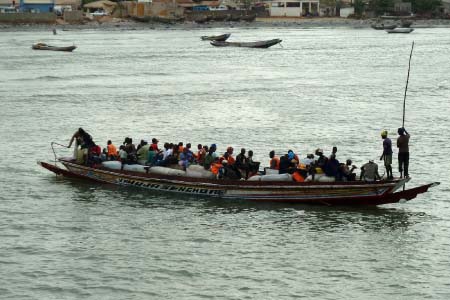 Eight people are feared dead, with some of the bodies fished out of the water over the weekend, after a boat carrying nine people encountered stormy waves and capsized en route to Barra Thursday evening.
The dead included young adults, middle-aged and elderly people.
According to sources close to the Barra beach, the captain of the doomed boat, a young fisherman now held by police for questioning, had set sail that fateful evening to collect a relative from Banjul.
The same sources claimed that the boat was not one of the regular passenger boats now active in ferrying passengers across the strip, but was in fact a fishing boat.
Police public relations officer, ASP David Kujabi, yesterday told The Point that a man believed to be the captain of the boat was the only survivor of the accident, and he is currently being held as police try to dig into incident that led to the ill-fated journey, despite official advice against embarking on such perilous journeys at night.
He said the tragedy was most unfortunate, and stressed his office's position that the first option as a safe passage across the water is by ferry.
"Where that is not available, then the second option should be the licensed and authorized passenger boats which are regularly monitored to ensure their adherence to strict safety standards at all times.
''Our people must stop taking risks, and obey safety advise,'' the police spokesman said.
Witnesses described a scene of deep emotions as the relatives heard of the death of their loved ones, while the public waited in suspense as the true nature of the accident became clearer.
Rescue workers from the security forces helped found the corpses, which were taken to the mortuary in Banjul as police conduct identification processes.
The incident has thrown into sharper focus the general concern for safety of commuters across the strip of water, that divides the capital from the northern half of the country and Senegal beyond, ever since ferry services suffered disruptions sometime this year.
Officials over weekend called for greater vigilance and strict observance of safety guidelines by operators of boats at all times.
Read Other Articles In Article (Archive)