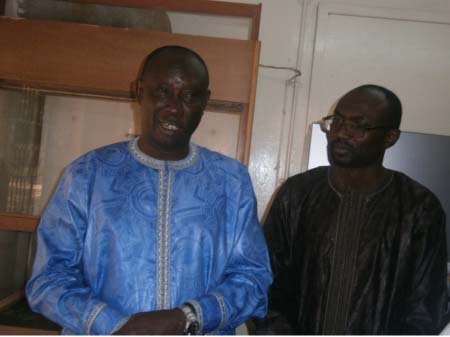 Fisheries and Water Resources minister Mass Axi Gai has said the world water development project recently released in its report that 780 million people lack access to safe drinking water and 1.3 billion people live without electricity globally.
He said the release further indicated that the global population would need 40 per cent more water by 2030, while highlighting the threat to water supply posed by conflicting interests by great population for energy food and water itself.
Minister Gai made this statement during the graduation ceremony of the 2012/2013 intake of the entry level meteorological and hydrological technician course which coincided with the commemoration of World Water Day on the theme: "Water and energy".
The graduation ceremony, attended by top officials of the department of water resources and government dignitaries, held at the department of water resources training school at the Banjul International Airport over the weekend.
According to Minister Gai, access to adequate and affordable water and energy is fundamental and necessary for the attainment of Gambia's national development objectives, as enshrined in the Programme for the Accelerated Growth and Employment Vision 2020.
He noted that the supplies are limited and demands for water are increasing, which also requires energy and energy require water too.
He said, therefore, improving water and energy in all sectors is imperative as coordinated and concerted promises, adding that to this end the government developed strategies and investment plans focusing on promotion of access to electricity and renewable energy and strengthen its legal and regulatory framework for renewable energy, an energy law enacted by Act of Parliament last year.
He further said the electricity strategy and renewable law came into being at the establishment of interim and standardize power produce grant private sector investment in electricity generation on renewable energy.
This, he said, would enable The Gambia to follow green energy pathway and need for all carbon moral and consume low carbon development partwayMinister Gai commended his line department for their commitment to strengthening the sector, noting that the national water sector reform project, which is under his purview, supported the establishment of integrated water process management in The Gambia to facilitate the efficient, effective and equitable water management throughout the country.
He applauded the project team for supporting the sector to ensure the development objective is achieved.
He used the occasion to advise graduates to utilize the knowledge gained during this intensive nine-month course, saying the ministry was proud to be associated with such an event.
He thanked its line department for their efforts at strengthening its personnel with the requisite knowledge to become an ambassador of the department of water resources.
Read Other Articles In Article (Archive)