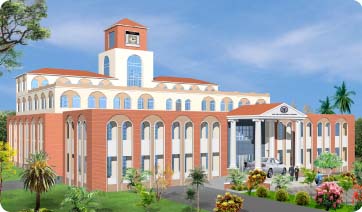 The foundation stone for a five million dollar health science centre of the American International University (AIU) in The Gambia was on Saturday laid by the Minister of Higher Education, Research, Science and Technology, Dr Momodou Tangara at the Kanifing Industrial Area.
The centre, to be constructed by Swami India within a period of 12 months, is expected to be the country's tallest building measuring 38 metres high.
In his remarks at the ceremony, Dr Momodou Tangara underscored government's commitment to laying a solid foundation for an emancipated and enlightened society and world order characterized by goodwill, peaceful and sustained progress and development for humanity.
"We hope that the coming generation will be proud of us and appreciate our efforts and therefore leverage and build on what will be together for a better world", he stated.
While lauding the AIU for the noble initiative, Dr Tangara encouraged the university to ensure that the structure erected is not only durable and architecturally appreciable, but also the faculty staff that would be engaged are of high quality so that the graduates from the university would be able to realize their full potentials, and enable them adequately prepare and be equipped to competitive advantages both at national and international level.
According to him, The Gambia is currently pre-occupied with expanding access in order to provide university education to all eligible Gambians, and the government believes that higher quality education can be provided for all deserving citizens in any country without huge and sacrificial investment, particularly the combination of infrastructure equipment faculty and all other elements that make institutions of higher learning reputable.
He noted that it is evident that in order to be part of the world, this is unattainable in the absence of the participation of the non-state actors and the Gambia's policy of partnering with reliable and sincere proprietors of educational institutions to fulfill these objectives.
Dr. Dinesh Shukla, president of American International University West Africa stated that AIU health science center shall be of world class standard, and will produce professionals capable of serving as leaders and innovators in their field of specialization.
The building, according to him, shall house 24 classroom complete with audio visual systems and electronic blackboards, 11 laboratories, 14 conference rooms, student study center as well as a 4000 square floor library which shall be open 24/7 for all students including University of The Gambia and students from other higher education facilities within the country.
Other speakers at the ceremony included Sean Logan, a medical terminology lecturer at the AIU, and Dr Makie Taal, director of academics and research at AIU, who chaired the ceremony.
Read Other Articles In Article (Archive)