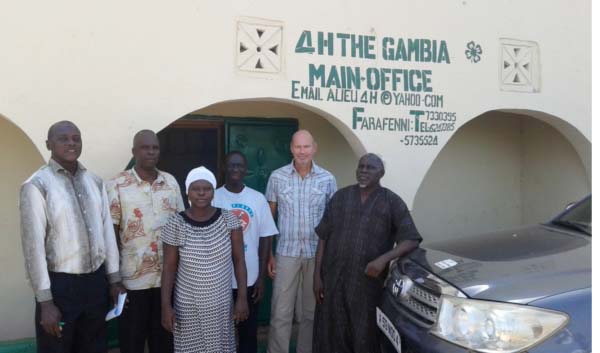 The National Director of 4H Gambia has lauded their partners in Norway for their contribution to the socio economic development of women and youth.

Alieu Ceesay was speaking recently at Farafenni during the networking visit of officials of TANGO, the umberlla body of NGos in The Gambia.
The officials were on a visit to member organisations to gather first-hand information about their activities and challenges.
Mr Ceesay said TANGO is "very instrumental" in providing capacity building to member organisations and facilitating networking with others.
He said 4H Gambia is working with 60 youth clubs in North Bank and Central River regions in promoting food production, animal husbandry and providing revolving loan schemes.
A programme to promote the concept of 4H in schools was piloted at Jamaly and Gisadi Lower Basic schools in the Central River Region, and it was "a great success".
Tor Martin Stenseng of 4H Norway , who is leading a team from Norway on a follow-up visit, commended their sister organisation in The Gambia for their steadfastness, and succesful implementation of development projects for 4H clubs in North Bank and Central River regions.
The team leader said 4H Norway annually organises project follow-up visits to intervention sites, during which they hold discusions with beneficiaries and finalise the annual workplan for the next three years of cooperation.
The new agreement, covering the next three years, with 4H Gambia includes working with schools to promote the concept of 4H, which includes 'clear health, warm health, clever heart and good health' with a slogan: 'Learning by doing'.
Mr Stenseng lauded the sister organisation of 4H Norway in The Gambia for the sound partnership spanning 25 years.
Musa Saho, project manager of Promoting Equity of Access to Resources, an EC-funded project of the Agency Village Support (AVISU), said the project has established marketing federation groups in Central River Region south to boost marketing, as a remedy to ease the constraints of producers.
They facilitated the registration process of the federation with the Attorney General's Chambers, provided office space for them in Brikamaba, equipped the office with laptop, filing cabinet and printer, and also gave them a motorcycle.
Bala Drammeh, project manager of Senegal-Gambia Agro Ecological Village (SAEVE) project, said they usually embark on capacity building of farmers to adopt cost effective ways of promoting the use of local resources to enhance food production.
The project empowers farmers to be aware of risks associated climate change on food production.
The project provided a standard seed store for the communities of Bati Yonko and Kofa in Upper Saloum, established a central tree nursery and embarked on programmes to promote the idea of agro forestry.
Read Other Articles In Article (Archive)