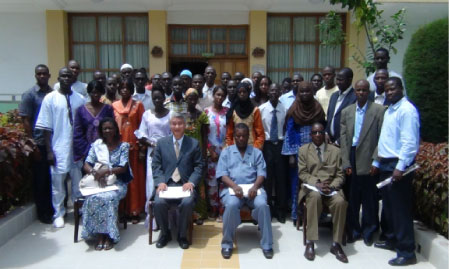 40 Gambians students were yesterday awarded scholarships to study at various universities and colleges across Taiwan.
27 out of the 40 were offered Taiwan ICDF scholarships, five are beneficiaries of Ministry of Foreign Affairs (MOFA) of Taiwan scholarships while the remaining eight received Mandarin scholarships.
The beneficiaries were yesterday awarded their scholarship certificates at a ceremony held at the Paradise Suites Hotel.
Speaking on the occasion, the Taiwanese ambassador to The Gambia, Richard Shih, congratulated the scholarship recipients.
According to him, this year ICDF has offered 135 scholarships worldwide out of which 27 went to Gambians.
"This is unprecedented, for a single country to win 20% of the ICDF scholarships," he said.
He attributed this to the solid educational foundation laid by President Yahya Jammeh for Gambian applicants.
He reminded the students of the task and challenges ahead of them, since education in Taiwan is very competitive.
"Education in Taiwan is very competitive, but I am confident that you will not let President Jammeh down," he said.
The chief Taiwanese diplomat urged students to respect the rules of the various schools to which they will be sent in Taiwan.
The students, he said, will be pursuing bachelor's and master's degrees during their stay in Taiwan.
Also addressing the scholarship recipients on behalf of the overseeing minister Hon. Ousman Sonko, Ms Amie Nyang deputy permanent secretary Ministry of Foreign Affairs, International Cooperation and Gambians Abroad described the day as another milestone in the bilateral cooperation between the Gambia and Taiwan.
"Education is one of the priorities of President Jammeh," she said. She noted that the Government of Taiwan over the years has been very supportive to The Gambia's development endavours.
Ms Nyang thanked the ROC government for offering numerous scholarships to Gambians over the years, and urged the students to work hard and make the best use of the opportunity given to them, since they were chosen from many.
Musa Touray Director of Higher Education at the Ministry of Higher Education, Research, Science and Technology also asked the students to study hard while in Taiwan. 
"We have seen many Gambians who have excelled in various universities abroad and today are contributing to the socio-economic development of the country," said Mr Touray.
Saikou Omar Touray permanent secretary at the Office of the President said that human resource development is essential for any nation.
"Taiwan has been very instrumental in the human resource development of The Gambia," said Mr Touray, and urged the students to work as a team, and be supportive to one other.
He further advised the students to be good ambassadors of the country, and to be law-abiding when in Taiwan.
Adama Ceesay, a graduate of Taiwan Normal University, chaired the ceremony and made an Introduction to Taiwan presentation.
She attributed the high number of Gambian recipients to the good ties between Banjul and Taipei.
Read Other Articles In Article (Archive)