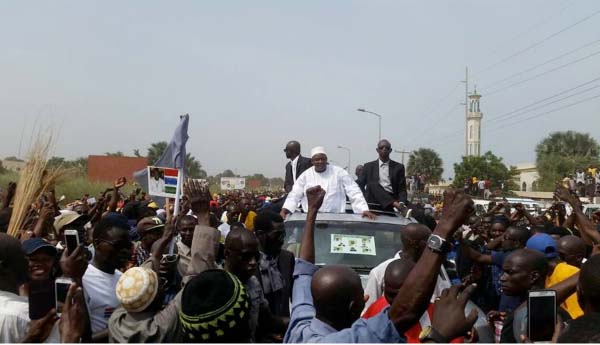 All the seven rallies of the opposition coalition scheduled for yesterday could not hold due to delay at ferry crossing in Banjul, coalition sources said

Though some of the sympathisers were able to cross, big heads including the coalition leader, Adama Barrow, could not cross until the time of going to press last night.
The delay was due to the fact that the ferry terminal was yesterday jam-pack with people and vehicles crossing to Senegal for the annual religious gathering locally called 'Magal', which is to take place on Saturday in Touba.
The coalition was originally planned to have meetings in Essau, Niumi Lamin, Pakau Njogou, Ndungu Kebbeh, Kerr Omar Saine, Darsilameh and Kerewan but none could hold.
Meanwhile, campaign of Mamma Kandeh of the Gambia Democratic Congress is going as planned. Yesterday, he held meetings at Sanchaba Sulay Jobe, Bundung Borehole, Fajikunda and Mandinaring, and the turnout was impressive.
Similarly, the tour of the incumbent president, Yahya Jammeh of the Alliance for Patriotic, Reorientation and Construction (APRC), is also going smoothly. He had a meeting in Central River Region yesterday.
Read Other Articles In Article (Archive)