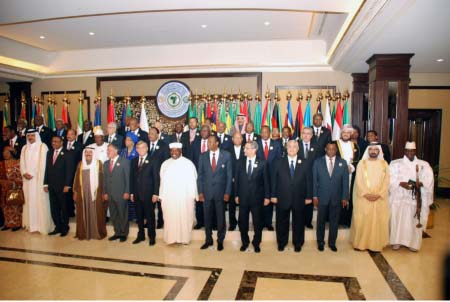 The Third Arab-African Summit concluded Wednesday in Kuwait with some 70 Arab and African leaders and representatives jointly issuing a declaration that eyes fruitful inter-regional cooperation.
The Kuwait Declaration, as well as other resolutions on anti- terrorism and anti-smuggling, expressed the common stance of the countries in the two regions in strengthening partnership and cooperation.
Through the declaration, the Arab and African leaders stressed their determination to address the underlying causes of conflicts and violence in both regions, "with a view to creating a conducive environment for prosperity and well-being of the people in the two regions."
Both regions recognized the need to pursue efforts to develop supporting policies for economic growth, and adopt financial policies that can guarantee sustainability in a bid to enhance poverty eradication efforts, including the Millennium Development Goals and Post 2015 Development Agenda, said the declaration.
At the closing session, Kuwaiti Emir Sheikh Sabah Al-Ahmad Al- Jaber Al-sabah said: "the Arab and African countries face a long way and hard work ahead, requiring doubled efforts and vigorous follow-up to match the high expectations and various challenges."
Meanwhile, the two regions' leaders made a commitment to holding the summit every three years, and agreed to convene the next African-Arab Summit in Africa in 2016.
Source: Xinhua
Read Other Articles In Article (Archive)