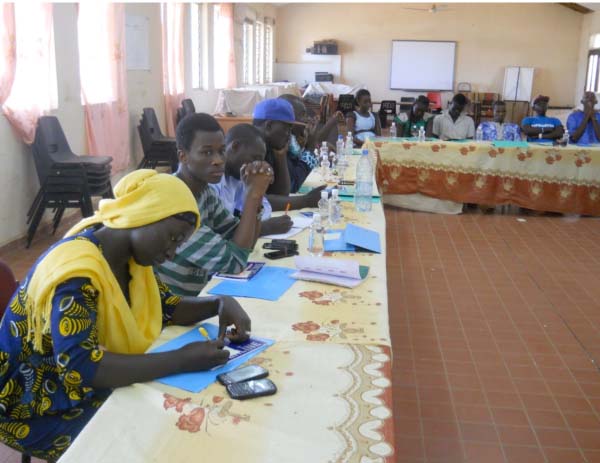 Activista, a youth empowerment organisation, with the support of Action Aid The Gambia, recently organised a three-day forum where about 35 youths from various regions of The Gambia were trained on policy analysis.
The training, held at the regional education centre in Kerewan, North Bank Region, was designed to build the capacities of young people on policy analysis for better advocacy.
Alagie Jarju, chairperson of Activista, said the event was also geared towards familiarising young people with policy issues.
"Once young people are informed, they will be able to analyse policies and they could even be involved in policymaking processes," he said.
Mr Jarju, who doubles as programme manager of the National Youth Council (NYC), said the three-day convergence will broaden the knowledge and understanding on issues of accountability and transparency in public policy process.
"It would also enhance skills of participants on public policy analysis and advocacy; promote understanding of budget process, national resource allocation and budget tracking; and facilitate development of skills and understanding of budget analysis methods and tools," he said.
The Activista chairperson said the organisation had taken the lead in building capacities of young people across the length and breadth of The Gambia on policy analysis and advocacy.
Alieu Barry, North Bank Regional Youth coordinator, thanked the organisers of the forum for choosing North Bank as the venue for the training.
He said the initiative would help in complementing the efforts of the Ministry of Youth and Sports to achieve its goals.
Nfamara Jarju, acting national coordinator of Activista, said:"We young people are now moving, and we should not be considered as beneficiaries but partners.
"We young people believe that no one should work for us but should work with us, because we feel we know our problems and I think we should be able to come out and speak for ourselves instead of being represented by others."
Saikou Kawsu Gassama, ActionAid programme specialist on governance and partnership, took the participants through such topics as definitions and concepts of public policy analysis, developing a policy brief, and human rights-based approach to poverty eradication.
He also took them through the introduction to Economic Literacy and Budget Accountability for Governance (ELBAG), legislation process, advocacy and lobbying, policy cycle, understanding public budget and budget process, and the youth policy.
At the end of the three-day forum, each of the participants was certificated for their participation.
Read Other Articles In Article (Archive)