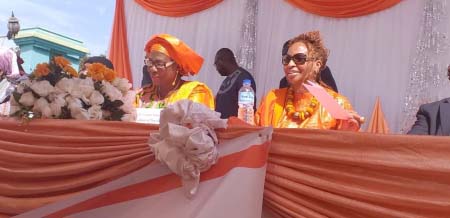 The World Food Programme (WFP) representative and country director in The Gambia, Tuesday said that 35% of women worldwide have suffered Sexual Gender Based Violence (SGBV).

Representing the UN resident coordinator at the commemoration of the 16 days activism against gender based violence, Wanja Kaaria said women and girls universally experience rape, sexual violence, and abuses everywhere.
She said the exact number of rape and sexual assault cases are 'notoriously' difficult to confirm due to frequent impunity for perpetrators, stigma towards survivors and their subsequent silence.
"Rape is rooted in a complex set of patriarchal beliefs, power, and control that continue to create a social environment in which sexual violence is pervasive and normalized," she said.
The WFP country director also said The Gambia is witnessing critical and difficult reports within the communities, but said all survivors of violence deserve the same range of sensitive, confidential and survivor centered support.
She however said that the UN is working to keep the promises made by global leaders in 2015 through the 2030 agenda for sustainable development which is aimed at ensuring that 'no one is left behind.'
She said UN agencies in The Gambia are working to invest in building capacities of gender machinery, law enforcement institutions, engaging grassroots communities and strengthening the health system to build a survivor- centered response system.
"The various agencies will work to ensure that all stakeholders play their respective roles in preventing and combating violence in all forms. UN urges the government of The Gambia to put in place stringent measures to ensure that perpetrators are held accountable and that victims receive the right response. I also call on communities to work towards eradicating the menace of SGBV."
According to her, SGBV is not acceptable under any circumstances and the UN would work with the government and the people of The Gambia to ensure that a Gambia free of allforms of violence against women particularly, sexual and gender based violence (SGBV) is created.
Deputy Commissioner of police, Ramatoulie Sambou said SGBV is a priority of the police, adding that through the partnership with Women Bureau and the support of the UN system in The Gambia, the police force has been implementing series of activities to prevent and respond to sexual and gender base violence.
Read Other Articles In Article (Archive)