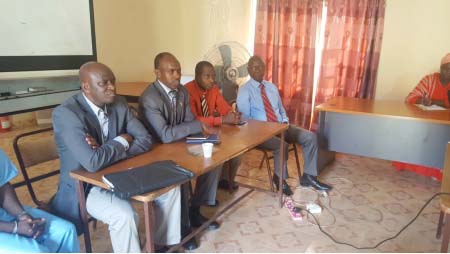 The Gambia Investment and Export Promotion Agency (GIEPA) in partnership with the Gambia Public Procurement Agency (GPPA) yesterday trained 30 young entrepreneurs on procurement rules and regulations.

The training, held at GTMI in Kanifing, was organised under the EU-funded project for public procurement reform in The Gambia.
Speaking on the occasion, Momodou Drammeh, Empretec project coordinator, said the training is "very relevant" for the young entrepreneurs because many times, their bids are rejected because they do it wrongly.
It was in view of that they designed the training to help the entrepreneurs to have vast knowledge on procurement which will in turn increase their chances of winning bids.
Mr Drammeh pointed out that the government is the biggest buyer and the entrepreneurs are the suppliers, so it is only wise that they (the entrepreneurs) know the rules of the game because "you can only play better in a game if you know the rules".
He said the training is to equip the participants with the required knowledge to perform better in the development and submission of their bids.
He explained that sometimes young entrepreneurs submit bids which are not up to expectation because the individual does not know how to do it.
"Most of them only present price in their bid thinking it is all about price," he said.
Hamat Bah, procurement officer at GIEPA, said GIEPA aims to help small enterprises comply with procurement requirements.
He said they want to help because more often when bid requests are sent out many young entrepreneurs apply but they hardly succeed.
"This has happened many times and we now realised that the fault is not theirs, they are not exposed to procurement rules and regulations and therefore, they do not know how to comply with the requirements," he said.
"That is why this training is important as it will expose them to such rules and regulations," Mr Bah said. "By the end of the training, we expect that those who are trained will be good business people who can respond to procurement requirements and will also comply with GPPA rules and regulations."
Read Other Articles In Article (Archive)