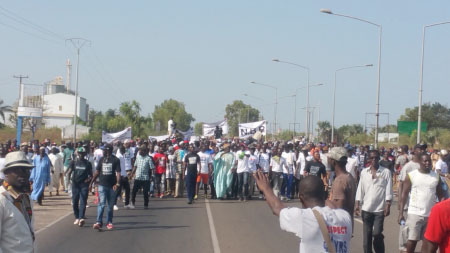 Members of the 3 Years Jotna, a pressure group demanding that President Adama Barrow steps down after completing a three years of presidency as promised during his campaign in the 2016 presidential election, said they want to see the president resign in honour of his promise to the nation.

Speaking in an interview with The Point Newspaper, Yankuba Darboe, a 3 Years Jotna official said that all they wanted was to see President Barrow to step down, adding that Barrow is not the man of his words.
"We don't want President Barrow to go beyond 3 years, because if we go beyond three years, it is going to be another dictatorial rule," he said.
According to him, it's a sign of dictatorship by letting them to protest in "this bush," saying they will not allow that kind of rule in the country again.
"We all know that this kind of things shouldn't happen."
Darboe who is a lawyer by profession, said that Barrow has been only following his interest and not the nation, adding that goes to show he doesn't want the country's economy to grow.
"We are fighting against another dictatorship because looking at how things are going, we are heading towards another dictator ruling," he emphasised.
Buba Ceesay from Badibou said that they have come out to remind Adama Barrow about the agreement he made together with the Coalition members. He added that failure to honour that agreement shows that he is not and would never be a good leader for the country.
"Adama Barrow has failed all Gambians not only for not honouring the 3 years agreement but also for not working towards the development of the country," he said.
Alhagie Dembo Sarja Krubally from Basse Koba-Kunda, said that he was at the protest ground to give advice to the young protesters to maintain peace.
"I really respect the 3 Years Jotna Group for persistently applying for permit to protest against what is not going good for them. This is democracy and it called for equal rights," he said.
Fatoumatta Sillah, a protester revealed that they were doing this to ask President Barrow to step down, adding that they no longer want him as the president of the country.
"We will want someone to lead us who will respect whatever he or she promises to us Gambians. Adama Barrow is taking us backward and we don't want him leader," she said.
According to her, they no longer have trust in Adama Barrow's government and they want him to step down immediately. She added that they will never get tired of protesting until he honours the agreement.
Read Other Articles In Article (Archive)