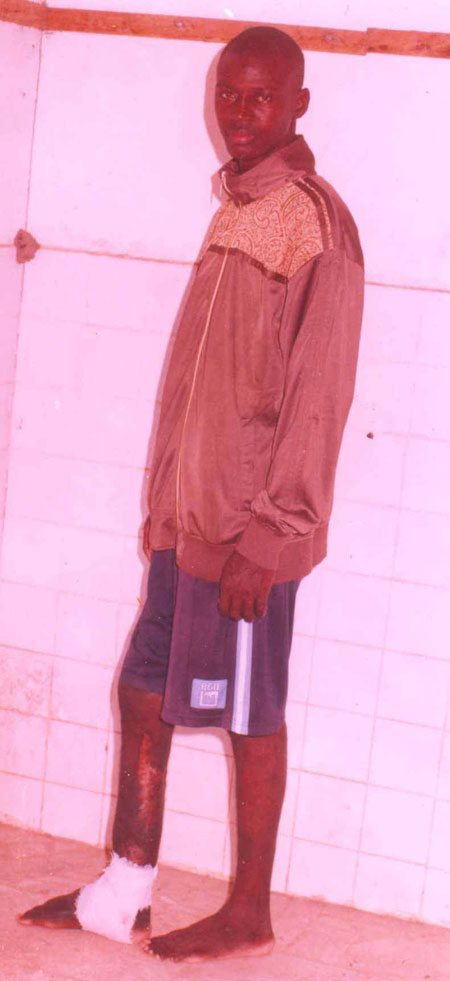 Abdoulie Jassey, a 29-year-old man and a resident of Brufut, Kombo North District, Western Region, is in dire need of support to undergo overseas treatment.
According to a medical report issued by the Royal Victoria Teaching Hospital, the patient Abdoulie Jassey, has a post-traumatic ulcer on his right leg, which "was operated upon on 17th October 2006 by skin grafting to the ulcer in the right leg calf area and anti-surface of ankle skin by skin grating (partial thickness graft) harvested from front of the left thigh".
The report added that "the skin grafts in ulcer area were fixed at anterior aspect of an ankle joint but the edges of the wound were infected with pseudomonas, and developed to another ulcer at the edges of the skin grafted area".
The statement further revealed that there was also a shift of the right ankle joint: "On 4 November 2006 the patient was re-operated by Elongation tenotomy to right tendoachillis (right tendo-Achilles tenotomy) and the new skin ulcers at an ankle and medial maleolus were grafted by partial thickness skin grafts harvested from front of right thigh."
The report further added that the patient has two operations, since then, to graft the ulcer, and a right tendo-archiles tenotomy was also done at the second operation.
It revealed further that the second operation skin grafted did not go well due to infection, and presently Abdoulie still has an ulcer on his right leg with a stiff and swollen ankle.
29-year-old now needs another skin grafting to cover the ulcer. But presently due to inadequate logistics at the RVTH, the operation has been recommended to be done overseas.
Anyone who would like to give a helping hand to Abdoulie Jassey can call him on the following numbers: 9817924, 7774140 or 7730079.
Read Other Articles In Article (Archive)