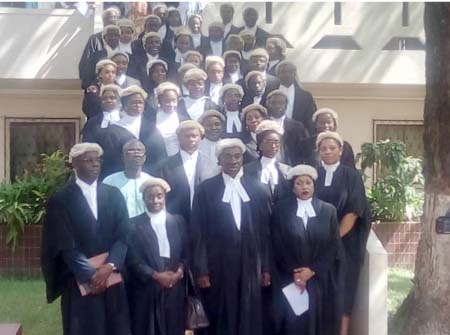 The General Legal Counsel and the Chief Justice of The Gambia, last Friday enrolled 27 new legal practitioners into The Gambia legal practice at the High Court complex in Banjul.

The 27 enrolled legal practitioners, who have gained training at the Bar and entered in the roll of legal practitioners, have been successfully enrolled through their academics and vocational training as lawyers.
Gambia Bar Association President, Salieu Taal welcomed the new entrants and encouraged them to be ethical and intellectually independent. "Never lose sight of your professional ethics, irrespective of the status of the client but always remember to work within the ethics of the profession. Clients do come and go and the money also get finished but your profession as lawyers will always remain to stand," he said.
He encouraged them to be committed and be ready to serve the interest of the society and be hard working. He also reminded them that they should have skills that will help them to practice their job as professionals. "You must work within the ethical profession of the job and you should be independent, respect the rule of law and safe guard the Constitution," Mr Taal advised.
He added that the Gambia Bar Association and UNDP are working on a project to establish a prison task office in Jeshwang prison, where lawyers will carryout their work and they also launched a mobile legal called MLAG with the objective of bringing legal practitioners closer to the community and he called on all new entrants to be part of the project.
Representing the Attorney General and Minister of Justice, Hussain Thomasi encouraged the new entrant of legal practitioners to continue the hard work and be committed to the society and make themselves available to national duty to improve the standard of better delivery of legal and competent services to the public.
He encouraged the new entrants to respect the core values of the profession and to remember that they are in positions of trust that they should not abuse. "Realize that state has also invested tremendously in your training and gave you infrastructure to practice the profession. You should therefore be ready to give back to the society in the committee service."
Chief Justice Hassan B. Jallow congratulated the new entrants and encouraged them to work within the professional code of conduct in order to be legal professionals. "As legal practitioners and as officers of the court, your primary duty is to promote proper administration, your independence, the administration of the law, maintenance of the rule of law and the well being of the court," Justice Jallow said.
He advised the new entrants to be constantly reading the laws of the land and always engage with their seniors with regards with the work so as to avoid making mistakes.
Read Other Articles In Article (Archive)