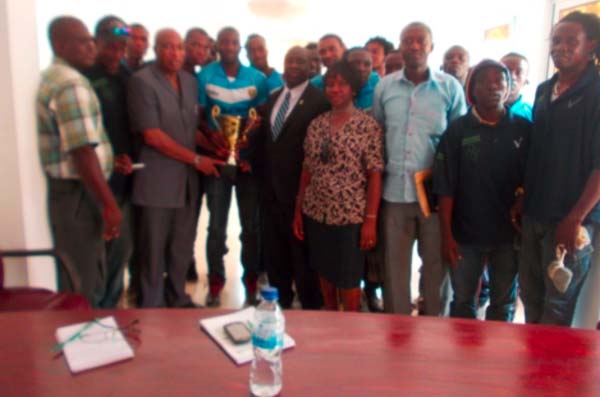 The Sierra Leone national team in The Gambia (Leone Stars) yesterday, Monday, presented the trophy they won as part of events marking Sierra Leone's 54th Independence Anniversary celebrations, to their Ambassador in The Gambia, His Excellency Soulay B. Daramy.
It would be recalled that Sierra Leone beat the Nigerian national team in The Gambia by penalties to lift the trophy following a goalless draw on regulation time at the Father Gough Sports Complex in Manjai Kunda.
In receiving the trophy, Ambassador Soulay Daramy thanked everyone who contributed towards the success of the tournament.
He said they intend to hold another formal meeting with the team officials, players as well as those concerned with football to discuss ways of making the tournament better.
Ambassador Daramy emphasised the aspect of organization, saying without properly organization in anything, that endeavour is bound not to succeed.
He also spoke of professionalism and good character and encouraged his boys to strive hard to be more professional and responsible in their football career.
He appealed to the team to be united and operate as one entity with the aim of going from heights to heights in soccer.
"We want to see one Leone Stars; the team must be united," he said, adding that as a national team they must show national sentiments.
He is willing to facilitate support for the team if they are well-organised and united, Ambassador Daramy said, calling on the technical staff of the team to bring on board any Sierra Leonean talented player they come across.
Head of Chancery Andrew Camara, in his remarks on the occasion, said he was delighted to receive the team, as he was impressed with the performance of the boys who excelled during the tournament.
They intend to invite other countries including The Gambia to be part of the tournament for the 55th Independence Anniversary celebration, he said, adding that they would also start to prepare for the tournament early to cover all they plan to do next year.
Mr Camara also told the players to: "think about what you can do for your country and not what your country can do for you".
Albert Buckle Koroma, head coach of the Sierra Leone national team in The Gambia, said there is no division in the team ever since it was put together and has been winning trophies over the years.
"Leone Stars team is one," coach Albert said, promising Ambassador Daramy and the Sierra Leone community that they would continue to work hard for more success and prosperity.
Team manager Julius Bassi Camara expressed sentiments similar to coach Albert's, saying they would continue to scout players to develop the team.
Assistant coach Muhammed Bangura, team captain Musa Ceesay and SLeNU financial secretary Chairman Musa all made encouraging remarks at the presentation. 
Read Other Articles In Article (Archive)