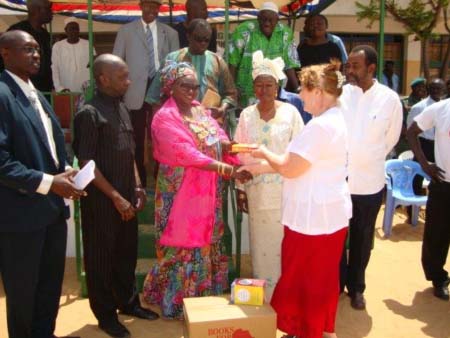 Books for Africa, a non-governmental organization based in the United States of America, in collaboration with the Banjul City Council, recently distributed 22,000 books to 16 schools, ranging from nursery to University of The Gambia within the Greater Banjul Area.
The Banjul City Council, over the years, has been collaborating with representatives of Books for Africa (BFA), and serving as the custodian of the donated books from the United States meant for distribution to schools in the Greater Banjul Area.
The presentation ceremony was held at the Garba Jahumpa Upper School in Banjul.
The Deputy Mayor of Banjul, Awa Sallah Njie, expressed joy at the handing over of the books by the BFA to Mrs Joy Buchanan, who is the official representative of the project in The Gambia.
She stated that the BCC had over the years been collaborating with the representative of BFA and serving as the custodians of the donated books from the USA meant for distribution to schools in Banjul.
She noted that the BCC was pleased to be given this opportunity to serve the education fraternity and to contribute effectively to the development of education, adding that books are important source of knowledge and of nurturing reading culture, which is vital to the socio-economic development of any country.
The president of Better Community, Joy Buchanan, said the presentation was made possible through the collaboration of several organizations.
The BCC has played a major role and it would not have been possible without the support of Mayor Abdoulie Bah and his team, including those at the seaport.
She added that the donation was funded by Sir Emeka Offor Foundation of Nigeria and Books for Africa, further pointing out that the mission of Books for Africa is to improve literacy and reading culture.
"The overall aim is to empower the next generation and break the endless cycle of poverty, and ultimately improving the quality of life," she said, noting that Books for Africa had shipped more than 28 million educational books to 49 African countries since its founding in 1988.
She revealed that over the past 12 months alone BFA had shipped 2.2 million books valued at $28.3 million to 22 African countries with an additional 616 computers and 15 brand new law libraries.
She further asserted that Books for Africa had been shipping to The Gambia for several years and her organization was honoured to receive and distribute a shipment in November 2012, adding that the donation was received by Better Community Association for distribution to schools and community institutions.
Read Other Articles In Article (Archive)