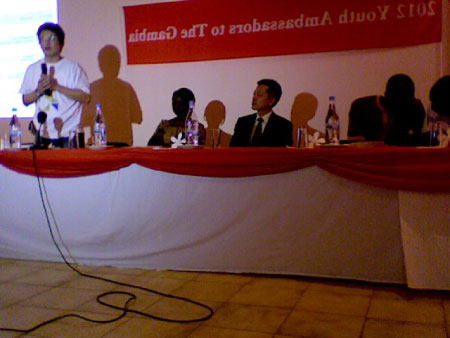 The 2012 Taiwan Youth Ambassadors' summer camp was officially opened yesterday at the Baobab Holiday Resort in Bijilo.
This year, six students are led by Professor Shih Shen-Guan of the National Taiwan University of Technology.
The annual event is aimed at exposing the youth to the cultural values of The Gambia as well as strengthening the bilateral relations between the two countries through cultural encounters.
Speaking at the opening ceremony, Tom Lee, Charge d'Affairs at the Taiwanese embassy, welcomed the youth ambassadors to The Gambia.
The visit of the youth ambassadors is meant to strengthen bilateral ties between The Gambia and Taiwan, he said.
Mr Lee recalled that President Ma of Taiwan last April visited The Gambia, while President Jammeh just returned from Taipei few days ago thus symbolising the cordial ties between the two countries. "Taiwan and The Gambia are not only friends but brothers and sisters," he said.
He noted that platform created by his government is aimed at giving Taiwanese students the platform to visit The Gambia and learn about her people and culture.
He encouraged the youth ambassadors to make the best use of their stay in the country while urging them to interact with the Gambian counterparts.
Amie Nyan, deputy permanent secretary at the Ministry of Foreign Affairs, International Cooperation and Gambians Abroad, also welcomed the students to the Smiling Coast of Africa.
Over the years the relations between The Gambia and Taiwan have grown very high, Mrs Nyan said, adding: "Taiwan is one of the most important bilateral partners of The Gambia."
She hailed the initiators and organisers of the youth camp noting that any investment in youth is essential for the nation's growth.
She implored on the local students in particular to take the camp seriously and network among themselves.
The head of the team, Professor Shih Shen-Guan expressed their delight in visiting the Gambia.
He said the students are all from the Design College of National Taiwan University of Technology and have won two international awards.
Other speakers on the occasion included Momodou Katim Touray, deputy permanent secretary, Ministry of Higher Education, Research, Science and Technology and Sheik Omar Bittaye, president of the National Union of Gambian Students (NUGS).
Meanwhile, the camp will last for two weeks and include 30 local students drawn from eight higher institutions of learning including the University of The Gambia and colleges.
Read Other Articles In Article (Archive)