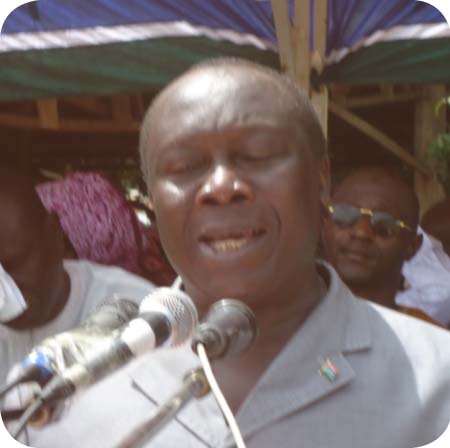 Minister of Agriculture Solomon Owens has said that an estimated 26 per cent of the world's children are stunted due to malnutrition, and two billion people suffer from one or more micronutrient deficiencies.
Minister Owens was delivering a statement to commemorate World Food Day 16 October 2014, and the 34th WFD.
According to the Agriculture minister, every year a theme is chosen for World Food Day to highlight areas that need urgent action.
The theme for 2014 is:'Family farming: feeding the world caring for the Earth', chosen to raise the profile of family farming and smallholder farmers.
It focuses world attention on the significant role of family farming in eradicating hunger and poverty, providing food security and nutrition, improving livelihoods, managing natural resources, protecting the environment, and achieving sustainable development, particularly in rural areas.
According to Minister Owens, the UN General Assembly designated 2014 as the "International Year of Family Farming."
"This is a strong signal that the international community recognises the important contribution of family farmers to world food security," he said.
The Agriculture minister further stated that both in the developing and developed countries, family farming is the predominant form of agriculture in the food production sector.
In The Gambia, agriculture remains central to the national economy, he said, adding that the livelihood and nutritional security of an incredibly large number of family farms is linked to agriculture.
Over 75 per cent of the rural population derives their livelihood from this sector, he stated.
To make farming more remunerative and to transform family farmers into entrepreneurs, the introduction of low-cost technologies, increased incentives and favourable policies are necessary, the Agriculture minister stated.
"This is the time to stimulate active policies that are sustainable and environmentally-friendly in the development of our agricultural systems, based on family farms and farmer cooperatives," he added.
"In The Gambia, programmes such as the Gambia National Agriculture Investment Plan and Vision 2016 are setting the space for the much-needed boost to the productivity of our major crops with emphasis on our national staple food rice."
He added that many family farmers lack access to good seeds, adequate storage for their crops, transportation, well-functioning markets, financing and policy support.
"Our government will continue to place greater emphasis and focus on emerging issues, like climate change, natural resources degradation, concerns for bio-safety, restrictive trade regimes competiveness of farm produce, improvement in farm income, shifting the consumption pattern towards processed food and increased demand for food items of animal origin," Minister Owens said.
The minister also stated that the sizeable quantity of perishable fresh-farm produce calls for a paradigm shift from primary to secondary agriculture, through value chain enhancement.
The development of the food processing sector could be a vital link between industry and agriculture, he said. 
Read Other Articles In Article (Archive)