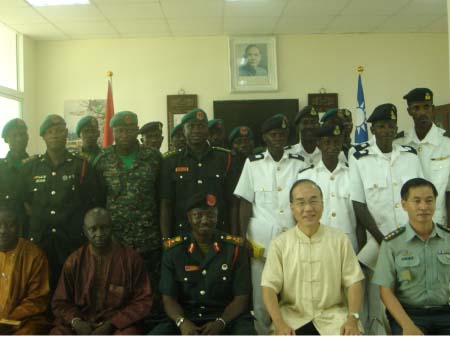 Sixteen officers of the Gambia Armed Forces (GAF) have been selected to undergo a six-month course in the Republic of China (Taiwan).
The officers were yesterday, 18 September, bade farewell at a ceremony held at Taiwan Culture Centre located at GNPC building by the Army Chief of Defence Staff (CDS) and Taiwanese Ambassador to The Gambia.
Meanwhile, 8 of the officers will be studying aviation while the other 8 will read navigation at a Taiwanese university.
Speaking to the officers ahead of their departure, Ambassador Samuel Chen said all the two fields of studies are important for the country.
"GAF expects that you can learn a lot while in Taiwan and come back to contribute to the development of your country," he told the student officers.
Ambassador Chen stressed that the university that the officers will be attending is a reputable university in Taiwan.
"The time should not be wasted since it is neither long nor short, so you should learn quickly and take advantage of the opportunity provided to you," he said.
For his part, Lieutenant-General Ousman Badgie (CDS) congratulated the officers for their selection, which he said was based on merit.
He told the officers that GAF is confident of them excelling in Taiwan since they were carefully selected among the lot.
"We don't expect any failure from any one of you but success," he told the officers.
He also challenged them to take their learning seriously and not to allow themselves to be taken by the beauty of Taiwan.
CDS Badgie also urged the officers to abide by the laws of the Asian country, noting that any misconduct on their side would give a bad image to The Gambia.
He expressed gratitude to the government and people of Taiwan for their immense contribution to the capacity building of GAF and infrastructure development of the country as a whole.
"We are developing an airbase unit and in doing so we need the services and expertise of those of you going to study aviation," he said.
He further disclosed that Taiwan has just donated additional patrol boats to The Gambia and has previously donated some, adding that they would need the services of the students going to study navigation in Taiwan.
Lt. Ebrima Jallow, on behalf of the officers, thanked GAF and the Taiwanese government for the opportunity given to them while assuring that they would live up to expectations.
Read Other Articles In Article (Archive)