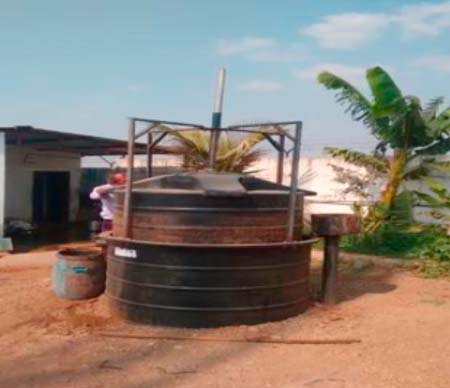 11, 000 United States dollars –more than 500, 000 Gambian dalasis- biogas plant project was launched at Sukuta clinic on Tuesday, by Trisp Africa limited, in collaboration with URJA Bio system in India.

The URJA Bio System Pvt Ltd waste to energy solutions and poultry waste to energy project is an exclusive leading player in Turnkey projects,biogas and biomass to energy generation field that empowers people around the world by providing alternative sources of energy.
The prefabricated biogas plant for cooking established at the Sukuta clinic is 75 to 100kg system which is made with cow dumb manure.
Lamin Sanyang, who represented the governor of West Coast Region at the launch said biogas is a lifesaving project for the people of Sukuta and it will take a long way in serving their needs.
Lead engineer of Trisp Africa from URJA Biogas solution said they are ready to invest more in the electricity shortage in the Gambia and to put more street lights.
He said those in the provinces would also have easy access to electricity and about 10 to 20 compounds will join in a biogas system which will serve them both day and night. "We want to generate employment for local people but not to bring people outside and do the work for them," he said.
Kebba Sambou from the Regional Health Department said the biogas project came at the right time, saying it would now enable women to cook in smokeless kitchens and keep the environment clean.
He said families spent closely 1, 000 dalasis on charcoal every month for cooking, but said with the help of the biogas project, which is a reliable form of renewable energy, cooking will now be easier.
URJA Bio system is engaged in providing technology from concept to commissioning of biogas plant, biogas cleaning system, biogas to power plant, domestic kitchen waste biogas plant, biogas generator and solar and renewable energy products.
Read Other Articles In Article (Archive)