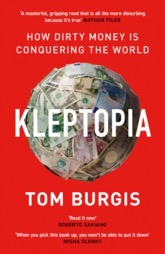 Tom Burgis has again written a sensational study of the murky goings-on in the international financial system.
His last book, The Looting Machine, was concerned with the modern-day plundering of Africa. This book has a more global approach with Eastern Europe, Russia, the US and UK taking up a significant portion of his investigations.
Burgis depicts an unsavoury coalition of corrupt strongmen, artful criminals, and rapacious elites who, abetted by a network of accountants, lawyers, and other professional facilitators, have managed to pillage money on a grand scale and hide it abroad. It follows the dirty money that is flooding the global economy, emboldening dictators and poisoning democracies. From the Kremlin to Beijing, Harare to Riyadh, Paris to the White House, it aims to shows how "the thieves are uniting".
"From Australia to Argentina, Iceland to Rwanda, presidents, prime ministers and their advisers and confidants, intelligence chiefs, generals, ministers, legislators and central bankers had chosen to store their money not among their compatriots but within the global financial secrecy system," writes Burgis.
Burgis weaves together four stories that reveal a terrifying global web of corruption: a troublemaker from the UK who stumbles on the secrets of a Swiss bank, an ex-Soviet billionaire constructing a private empire, a righteous Canadian lawyer with a mysterious client and a Brooklyn crook protected by the CIA.
The case of Kazakhstan
Kazakhstan features heavily in Burgis's investigation, with the reign of former President Nursultan Nazarbayev, who is accused of having expropriated the wealth of the country for his own benefit, given particular attention.
There was much to expropriate. Khazakh­stan is replete with extractable resources, including copper and uranium, and vast oil fields under the Caspian Sea. Those who questioned Nazarbayev's autocratic rule, or the way the country's revenues were being diverted from the public purse, were targeted.
Burgis relates the terrifying experience of Roza Tuletayeva, an employee of the Kazakhstan state oil company. When a workers' strike centred on the oil town of Zhanaozen was declared illegal in 2011, Tuletayeva joined others on a hunger strike that was brutally repressed by the security forces.
At least 14 protestors were killed by police in the infamous Zhanaozen massacre of 16-17 December 2011.
After her arrest, Tuletayeva was subjected to physical and psychological torture before a show trial resulted in her being sentenced to seven years' imprisonment.
Still, the president realised that he needed to polish his image in the West, and he had the funds to construct an alternative public identity. He worked with expert communicators to burnish his credentials as a respected leader, and even received advice from former UK prime minister Tony Blair, whose consultancy signed a multi-million pound deal to advise the Kazakh government weeks before the massacre.
Advising Nazarbayev on a speech he was to give at the University of Cambridge, Blair wrote: "I think it best to meet head on the Zhanaozen issue. The fact is that you have made changes following it; in any event these events, tragic though they were, should not obscure the enormous progress that Kazakhstan has made."
The role of real estate
Yet the book has a wider lens than events in one Central Asian autocracy.
One constant highlighted by Burgis is the international role of real estate as a favoured means of laundering dirty money. Burgis explains that when, post 9/11, banks were required to pay more attention to the provenance of the money they were taking in as deposits, real estate became a route to sanitise ill-gotten gains for many criminals.
Burgis relates the story of Felix Sater, a New York qualified broker and associate of Donald Trump who spent jail time after a bar room brawl. After being released from prison, his broker's licence was revoked and he got involved with what Burgis describes as a "mafia-backed stock fraud", otherwise known as a pump and dump operation, where investors were persuaded to buy into shoestring companies, driving up the share price, which were then sold for a profit.
Sater knew how to set up front companies to launder the proceeds. Burgis reports that the racketeers made and washed $40m. Following his arrest on securities fraud, Sater became an informer for both the FBI and CIA. But Sater was not merely a low level New York conman – he was well connected.
Friends in high places
In 2001, Sater met future US President Trump and proposed a partnership. He had what Trump needed – access to finance – and he even travelled to Moscow with two of Trump's children, to promote the building of a Trump Tower in the Russian capital.
Trump subsequently denied any knowledge of Sater. But Sater might not be done with Trump.
"First thing I plan to do when Trump leaves office, in 2020 or four years later, is march into his office and say 'let's build Trump Moscow'," Burgis quotes him as saying.
In such ways, Burgis's book, which is written as a thriller, reveals how shady characters with access to funds of doubtful provenance can still buy access to the corridors of power around the globe. From democracies to autocracies, the corrupting influence of money, property, and access to state resources is clear.
His tales of globe-trotting skulduggery, familial abductions, private investigators, shady characters, and money-laundering make for fascinating, deeply troubling and complex reading.
Available at Timbooktoo Tel:4494345
Read Other Articles In Book Review