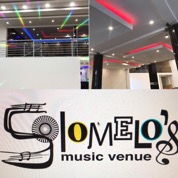 As the country's entertainment sector continues to grow while young people contribute their quota to the productive sector of our economy, Solomelo's will be a complemental effort in shaping the way forward to a better entertainment sector. While contributing to the socio-economic development of this country, the entertainment industry also provides employment opportunities to a multitude of people, thus investing in it will increase the country's growth.
In an interview with Sulay Sowe, a Musician and the managing director of Solomelo's Music Venue told this medium that he is a concerned Gambian and has been in the music industry for a long time. He stated that it ever be his wish to establish a place where Gambians can scout their talents and as well to have a platform where they can expose themselves.
"When I was young, I used to visit a tropical nightclub. We ever have the mindset of supporting the Gambian music to stage on another level because many people used to depend on the government unknowing that things don't work like that. Supporting Gambian music is among the key reasons why I joined the music industry."
Sowe who is the founder of the Gambia Music Union continued that when he traveled abroad, he had the opportunity to come back to the country and build a place that can be used for music concerts. He said the center can be used for Concerts, Seminars, Weddings, Workshops, Conferences, Rehearsals, Live Performances, Theatre Productions, Fashion Shows, TV Productions, and Product Launches, Youth Projects, and Exhibitions among others.
"We will collaborate with young people to implement activities because we have a sound system and other facilities that might not be found in other halls."
With lots of inspiration to support the country's arts and culture, especially the music industry, Sowe has the intention of establishing a music academy that can help in boosting and nurture young talents. He said one of his plans are to conduct a weekly Radio show that can be used to sensitize musicians in order to uphold to the guiding principles in the performing arts.
The grand launcher of the multipurpose center will be graced by both the minister of Tourism, Arts and Culture and the Minister of Youths and Sports, slated to take place in Bakau.
Read Other Articles In Arts and Culture