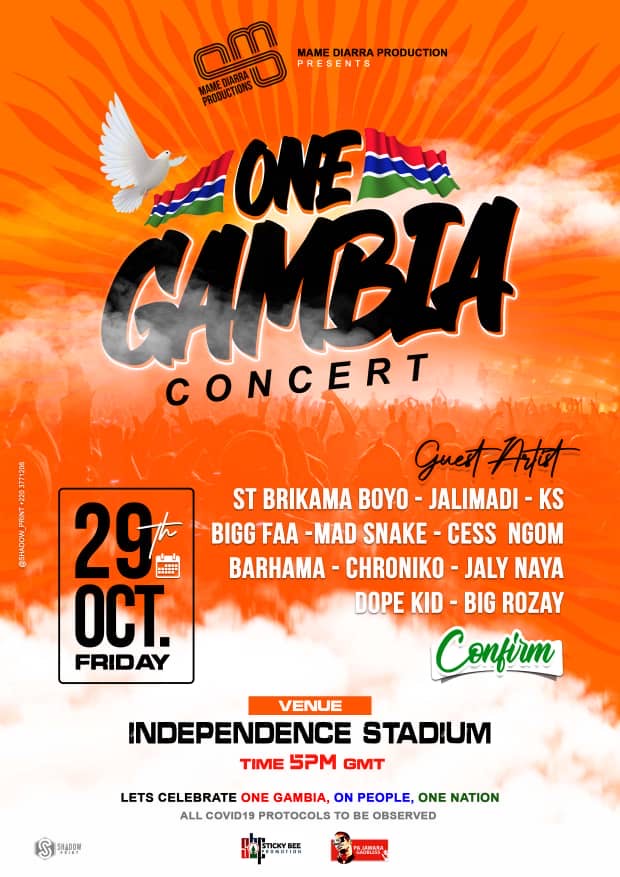 As the Gambia is preparing the 2021 general elections, the country need more sensitization on peace building, as Mam-Diarra Production is in the preparations to stage a mega peace concert come 29th October, 2021 at the Independence Stadium in Bakau.
The concert which is expected to bring thousands of music fans, aim to bring both politicians and the masses under one umbrella, as it would be a night entertainment and cultural performances from various musicians across the country.
According to the organizers, the event is expected to be grace by politicians and other stakeholders respectively.
Pa Malick S Mbye, founder and CEO of Mam Diarra Production said the purpose of organizing this concert is to bring both the politicians and the masses under one umbrella as we are approaching the 2021 general elections.
He said the country has just from a dictatorship, and we don't want such to be repeated in this country anymore.
"The Peace Concert is to use the power of music to transmit peaceful messages to the young people and the nation at large before, and after the elections," he said.
The former musician who is also known as a successful business man further explain to this medium that this event is not for money making, but is to sell the concept, as well as to unite the nation before election.
He urged every Gambian to join the campaign to advocate for peace and unity for The Gambia.
Read Other Articles In Arts and Culture