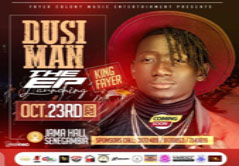 Come 23rd October 2021, the Kairaba Jama Hall is expected to rise as King Fyer will be on stage to launch his EP which is expected to be witness by thousands of his fans.
In a chat with this paper, King Fyer said the long awaited event will be one of its kind in the music industry, adding that the EP consist of 8 songs produced by J Live Music.
"I started my music career in 2015 and recorded a number of songs," he said.
He called all music lovers in the country to come out in their large numbers to support him, saying the event will be backed by live band and graced by some Gambian artistes.
Read Other Articles In Arts and Culture