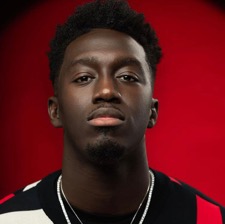 Foreign Prince, a Gambian American based artist and a songwriter was born in Northern Virginia, and then in his early childhood his Gambian mother decided that he didn't want to raise her only child in America, the reason being, is that she wanted to raise him in her country of origin so that he may grow up knowing where his family come from, also seeing how hard life can be at an early age, growing up in a less fortunate country opened his eyes and seeing things that most kids should not see at that age.
It builds him to grow up to be a better man. Being raised by his family, he started to see the different personalities, some where very tough like his no nonsense mother and some where soft at times like his late grandmother.
Prince quickly learned what's good and what's bad, especially after a whopping unfortunately with these experiences, he picked up great qualities that he will need in life to succeed as a human being.
Soon later, his mother brought him back to Northern Virginia after she decided that he was ready to make a return to his birth country. He was under the care of his aunt and uncle for few years before he was reunited with his mother in the states. He continued to grow, and then he attended and graduated from Lithonia high school in 2010.
He was captain of the soccer team in his senior year, was a kicker for the football team during his junior and senior year, and was part of the swim team where he made it to the state championships.
He was offered plenty of scholarships and decided to attend a private college in Alabama where he was given a soccer and football scholarship, he only played a season in both sports before transferring to Georgia State University.
Prince later decided to give music a shot, so he started recording, at the time he wasn't serious but once he finished his first song , that's when he started to realize that he had a hidden talent and his close friends pushed him. He kept working hard to find his sound and style.
Few years later he was able to drop his EP album "Ins & Outs" in 2019, while working quietly and in secretly he surprised a lot of people.
In late 2020, he dropped a single, " Down With You", which he tailored to his Gambian culture. He then released the video to his latest single in early February 2021. With his musical talent, he begins to gain the support of many Gambians.
Read Other Articles In Arts and Culture