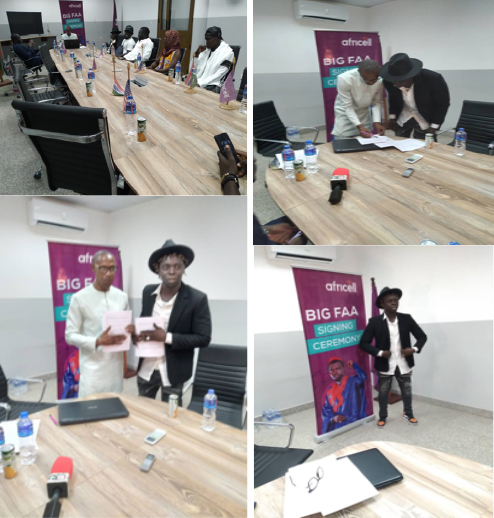 In an effort to contribute to national development through music and culture, Africell Gambia Limited, the leading GSM operator in The Gambia recently renewed a one year contract with its artiste and promoter, Big Faa at a ceremony held at Africell head office along Kairaba Avenue.
Waka Jange, a promoter for Africell said: "we gathered here today to do an endorsement agreement between Africell and Big Faa." He added that the gathering was not only significant, but also affirms their commitment to their ambassador.
"After a thorough review of the contract previously signed with Big Faa, we are glad to say that Big Faa has fulfilled his obligation and today we are proud to once again renew the contract with assurance that he will again fulfill his part of the deal as well as meet here next year for another ceremony," he further said.
Waka congratulated Big Faa for the recent successful launch of his album. He also assured him of Africell's continuous partnership.
He also expressed their commitment national development, particular youth empowerment through the art.
"Africell has sponsors 95 percent of musical events in The Gambia and this will continue," he said further.
"As a company we will do our utmost best to make sure musical events become part of The Gambia," the promoter said, while calling for more encouragement and finance sponsorships for the music industry.
"Africell is proud to associate with Big Faa as our grand ambassador," he concluded.
Big Faa said: "it feels good to be back here with my team to sign another contract with Africell. Everybody knows that we represent Africell everywhere in this country."
"I am really happy to work with Africell when it comes to Gambian music. Africell supports every artiste in this country. There is no company in this country that support artistes more than Africell," he stated.
Abu, event planner for Big Faa also expressed similar sentiments and thanked Africell for their support.
Read Other Articles In Arts and Culture