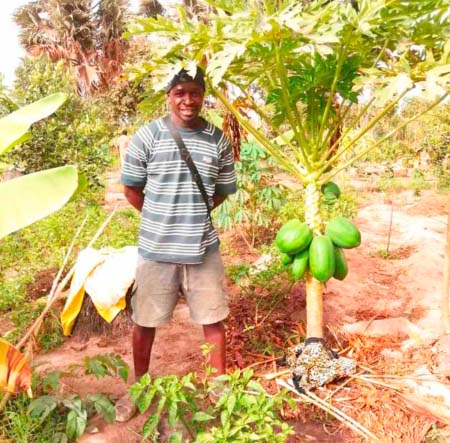 This situation has inevitably forced and continues to force youth out of the continent, and small Gambia is a major contributor when it comes to irregular migration but as well as regular migration from Africa to the West.
But with the coming of the Global Youth Innovation Network Gambia Chapter (GYIN Gambia Chapter) in the country, many rural youths are beginning to find hope in the midst of hopelessness and destitution as GYIN Gambia launches some entrepreneurship and skills training programmes, as well as rural youth award that exposes these young people to top-notch opportunities especially to Gambian rural youth entrepreneurs with the hope of changing their mindsets, particularly when it comes to agriculture and entrepreneurship.
GYIN Gambia is a youth-led network that creates opportunities for rural youths so as to recognize their contributions in nation-building, countrywide.
One such youth who benefited from these opportunities from GYIN Gambia is Wally Juwara of Kartong, a young Gambian horticulturist and fruit grower.
Juwara painted a vivid picture of his agricultural adventure, his encounter with GYIN Gambia Chapter, and recollected the hardship he's faced in life before benefiting from the GYIN training packages.
As the young Juwara elucidated to this pro-agric and entrepreneurship online medium that strives to give voices to young people like him, among others, "joining GYIN Gambia was one of the best opportunities" he's been exposed to, acknowledging also that it helped him to become conscious of the importance of proper record-keeping, and was able to develop some key enterprise management skills from the Rural Youth Award 2018 and 2019 where he was a nominee.
For the Kartong horticulturist, "The training organised by GYIN was an eye-opener in enterprise management and record-keeping for me even though I did some record-keeping courses while in school.
But I never took these skills seriously until I attended the GYIN Gambia Youth Mentorship Programme on Enterprise Management- for six months-which was fully funded by the Youth Empowerment Project (YEP) through the European Union Emergency Trust Fund for Africa."
Wally has a Diploma in Accounting at the Gambia Technical Training Institute (GTTI), graduating with Association of Accounting Technician (AAT) from one of the best learning institutions in the Gambia.
He, however, had to roam about the country for years looking for a white-colored-job but without success.
That frustrations over lack of job opportunities for him eventually landed him into field of agriculture as he was introduced to it by his grandfather who is based in Sweden, to serve as a Farm Coordinator.
Juwara recalled, "My grandfather entrusted his garden to me and I served him for two years before I developed my own garden too."
He noted that within those two years as Farm Coordinator, he had planted over 400 orange trees and other trees for his grandfather who, in turn, helped him to acquire a piece of land to do his own farming such as horticulture and tree-planting.
"I now run two different gardens in Kartong, and everyone knows that I am a farmer in Kartong," Juwara stated with pleasure.
Disclosing his grandfather used to pay him a salary of 3,500 dalasis, Juwara, who served as a part-time painter before embracing agriculture, said he was introduced to painting by a friend since he had no formal employment opportunities and he needed to provide sustenance for the family.
"Life was terrible; it wasn't easy at all for me," the now rising farmer flashed back his memory.
He added that his visit to Casamance inspired him even more as he saw some young Senegalese who were doing well in agriculture, in that Southern region of Senegal.
Apparently, Juwara developed a personal mantra and that is to say:
If those people in Casamance can survive well from gardening and the agric sector, in general, then he too can without employment from someone.
" As it is the ambition of many of the youths in the Gambia, the young Wally also wanted to embark on the perilous "back-way" journey to Europe with some of his friends immediately after schooling.
He said that was one of his biggest dreams at the time since there was no opportunity of working in the country.
He indicated that his interactions with GYIN Gambia availed him the limited opportunities in country, noting the network shares the latest opportunities especially from Youth Empowerment Project on their social media platforms.
Initially, he found it difficult to kick start his gardening activities, he said, divulging that lack of water and solid finance are huge challenges for him.
For the first two years of his project, he said he used to fetch water from a nearby well which was at least 100 meters away from his garden. He recounted also that the well was so deep that drawing water frequently from it was hectic.
It's against this backdrop that the young Kartong horticulturist is appealing for support from philanthropists or those with the wherewithal's, for the provision of a borehole or solar powered system, reasoning that because using generator also needs fuel and it's expensive for him to sustain.
He spends 300 dalasis weekly on fuel alone.
The other pressing challenge he cited had to do with the monkey encroachment into his livelihood, saying monkeys usually invade his garden, eating most of his crops; however, he stationed some dogs at the garden to scare the monkeys away.
"I stationed these dogs here to prevent the monkeys from invading my farm," asserted the young determined farmer in the Kombo South settlement of Kartong.
Juwara put on record that the D50,000 Mini-grant support he received from YEP, has enabled him to purchase water pipes and a generator, and he also dug a well and constructed a small borehole tower as he plans to expand the water distribution system in his farm.
On marketing, Juwara said he sells his garden produce to clients from his native village of Kartong and Brikama in the West Coast Region, explaining that people know him as a farmer and they usually buy products from him, daily.
In a period of two months, as disclosed by Juwara, he was able to make D25,000 from his horticulture section of the garden, from the sales of hot pepper. And, he believes he could make more than D50, 000 in six months.
He continued, "Recently, I harvested three baskets of hot pepper and each kilogram cost D300 or even D400 depending on the season of harvest."
His advice to the young folk is to be proactive, echoing that no one would develop the country for them. Besides, he described GYIN Gambia as a "gateway to unlimited opportunities",
Intimating that the network comes to expose youths, especially rural ones, to "limitless chances" in the Gambia. "GYIN Gambia is absolutely working-the-talk," he opined.
Juwara's garden has pawpaw, banana, mandarin, coconut seedlings, tomatoes and oranges, different varieties of peppers, and many more other seedlings and plants.
His wife also stated that agriculture is full of blessings and the opportunities are constant.
She pointed out that their "entire living" is from their garden.
Source-GYIN
Read Other Articles In Youth Forum