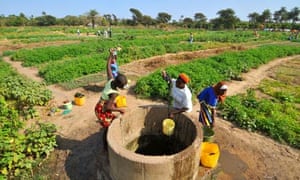 Operation No Back Way to Europe, a youth-led advocacy group against irregular migration is deterring young people from embarking on the perilous journey by supporting young people in vulnerable districts in The Gambia to participate in agriculture.
Mohamed Ceesay, a 20-year-old farmer from Central River Region is a high-school dropout but thanks to the initiative to discourage local youths from immigrating to Europe, he now earns huge income from his rice farm.
Gambian government has provided farmers in 10 of the country's most vulnerable districts with inputs such as power tillers, tractors, rice threshers, seeders, sine hoes and bags of fertilizers.
Ceesay says he makes 35,000 Dalasi every three months from is rice farm. He is one of 50 young farmers who are members of Operation No Back Way to Europe, which was founded in 2008 to discourage young people from embarking on irregular migration.
Some of the young farmers in the organisation have previously attempted to enter Europe unlawfully, but were deported back to The Gambia. 23-year-old Edrissa Sane is one of them.
"Before, I used to ask my family to help me go abroad in search of greener pastures. I have tried several times by travelling by sea on a small boat to Spain but could not make it. I did not succeed because we were arrested and deported back to the Gambia," Sanneh said.
Since he joined Operation No Back Way to Europe, Sane has had no desire to make the dangerous and unlawful journey to Europe again.
"I earn more than 30,000 Dalasi in just a few months. That is enough for me, rather than voyaging across the sea to lose my life," he said, saying he regretted not venturing into farming sooner, as he now earned a good living.
Bubacarr Jabbi, chairman of Operation No Back Way to Europe said the association was working with the immigration department and Gambia Police Force to reduce illegal emigration.
More than 200 Gambian youths have died while crossing the seas to Europe. At one point, more than 600 youth attempt to emigrate unlawfully every year but only 60 attempted the journey in 2010-11, according to statistics from The Gambia immigration department.
"We believe in action and therefore urged other relevant stakeholders to come to the aid of the youth to inform them about the implications of illegal emigration," Jabbi said.
Read Other Articles In Youth Forum