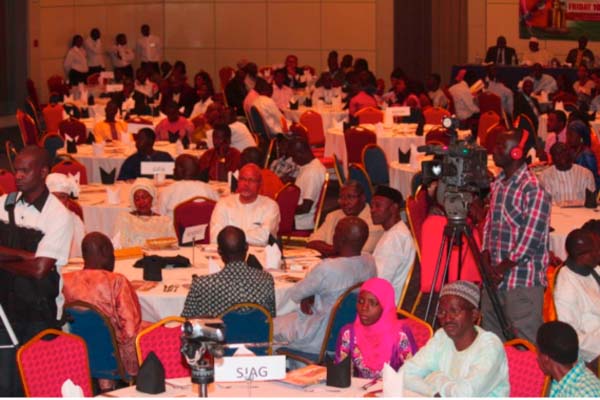 The SJAG event, which has over the years recognised and awarded the country's hardworking sportsmen and women, is meant to recognise and reward past and present sports personalities.
Prominent sports and non-sports personalities, from within and outside the country are expected to grace the event. Due to the Covid-19 pandemic, the event was not held last year.
Meanwhile, this year's event which is under the theme: "Celebrating to Inspire," is expected to be graced by Gambian leader, Adama Barrow, both Gambian and Senegalese sports ministers and Senegal's and Liverpool star player Sadio Mane and Senegalese Sports journalists among others.
As part of the event celebration, a 30-man delegation from the Senegalese Sports Journalists Association is due in the country today, Friday, as part of guest of their Gambian sports journalist's counterparts.
The two associations have formed and maintained a close working and social relations marked by exchange of visits on each other's award ceremonies.
They also organised joint working sessions during international sports events involving Gambia and Senegal.
The Senegalese Journalists delegation led by President Aboulaye Thiame, will among other things hold bilateral talks with the SJAG to explore possibilities of collaboration in travel and other logistical arrangements for the coverage of the Afcon finals where both countries will be participating in January.
Alieu Ceesay, SJAG secretary general in an interview with Pointsports, said this year's award is very important not only to SJAG but to athletes as well, knowing that last year's award could not hold due to the covid-19 pandemic.
He added that the only categories available for this year's award are the Foreign Based Athlete and remembrance awards for veteran and fallen sports legends of the country.
"This is because not much happened last year as far as sports are concerned in the country due to the pandemic. Even the country's leagues could not be completed due the pandemic," he explained.
According to him, due to this fact, it will be difficult to come up with other categories without any nominees or with only one nominee, adding that this is the reason they came up with only the Foreign Based Athlete category because they had their seasons completed.
"This year's award will also witness individual awards such as Gina Bass, the U-20 and beach volleyball team amongst others who did well in their individual sporting discipline.
SG Ceesay revealed that about 350 people are expected to grace this year's event, noting that there are no ticket sales rather it would strictly be on invitations.
Read Other Articles In Sports