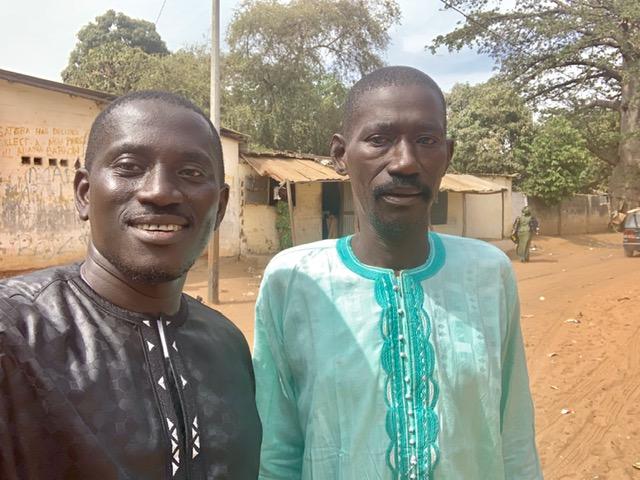 To our late mother he was Baba, (her first son named after her own father, Burama Matta Jammeh); to the rest of the family he was just Burama. In the streets of Banjul Central they called him Ndee Sosseh. When we moved to Lamin they called him Lion; the latter name he derived from Bob Marley's hit song "Iron Lion Zion".
But perhaps to himself, he was the only elder brother of Modou Sabally. A station he cherished and a duty he lived all through his life.
My late brother was some 4 years older than me but we spent our childhood beside each other. He taught me how to swim from the seasides of Banjul to the rivers of Lamin called Bereto and Sitaba. I was so attached to him as a child that he would sometimes threaten to beat me up if I insisted on following him when he was going to town on missions too far away from our locality.
But he loved me; cared for me and loved everything about me. My children, even the oldest, Muhammed, will forever remember him as the affable uncle who brought home the delicious crustaceans of the sea.
Burama attended Campama and Yundum Primary Schools before proceeding to Crab Island Secondary School. He loved football and the usual masquerades of Banjul. He had a deep passion for culture.
There is no single person of his generation who was more knowledgeable than him in the recondite songs and symbols of the circumcising world, from the Wolof to Mandingka and Jola traditions. He has served as the guardian 'kingtango' of thousands of young circumcised children over more than 30 years. His was never a dull life. Always creative and often edgy; together with his friends like Malick Manga and Ba Ouso, they formed what could perhaps be the most controversial Nawettan football team in the history of Lamin, Turubang Kansala.
As he matured further into adulthood Burama took a liking to the seas. From tourist boats to fishing canoes, Burama was always in the waters exploring and hunting. I doubt if he ever made much money in this pursuit for he gave away practically everything he got as gifts. Neighbours are telling me that on the very day he passed away, just before going to the hospital, he gave away buckets of fish and crabs to our neighbours in Lamin.
He once asked me for some money to invest further into his fishing business; I did but the business went bankrupt and I knew why. He would share whatever he got with whoever happens to be around him or in need. At the riverside in Lamin, he was the town's perpetual search and rescue commander, diving into the waters to save or recover the bodies of drowning people.
The last time I met him at our family home, he gave me a sack full of crabs for my children, Latirr and Khadijah. When I complained that what he gave was too much and I wanted to reduce it, he would not accept that. He actually said the rest could be used to cook 'ebeh' for the guests coming to my son Lamin Kimintang's naming ceremony which happened that very week.
Of late he moved to Barajally in CRR to engage in rice cultivation. His whole life was one of adventure. Most of that adult life was lived unnoticed in the waters of the River Gambia and her many tributaries.
When I visited him at the hospital last night, I asked if he needed anything but the only thing he asked for was water. I bought three bottles and gave it to him. He opened one and took a sip.
Instead of being worried about his own health condition, he was bothered that I left home that night to come and visit him at the hospital "hei sei suwokono; e teh yaa jangfa ta leh" (now you go home because your residence is far away from here). That was my elder brother from the same mother and father Ebrima Sabally, fondly called Burama. Certainly the pet child of our late mother. But Burama also had his own pet. His perpetual little bother, Modou Sabally.
He had the gift of wit and he had his way with words. I just stepped into his house right now and the first thing I saw is his favorite mantra "shut up and fish." On the other wall is pasted a giant picture of mine (in suit and tie) between pictures of him and his late wife on the right, and another picture of the wife and our late mom on the left.
One of his key aphorisms is my favourite: "at the end of the day every monkey will have a branch to sleep." That is some deep philosophy that I saw him live. He has certainly taken his own branch in the crust of the earth, our final destination, and he is right: we shall all ultimately have that final inevitable branch to sleep.
I am not one to loose control of my emotions in weak moments. But the sudden passing of my brother brought me down to my knees. I could not withhold my tears. I wept for the loss of my brother; but more so I cried for the demise of my late mother's favourite child.
The mangroves and waters of Lamin bereto have lost a beloved companion. Our family has lost a caring sibling. My children have lost a doting uncle.
May Allah forgive him and grant him Jannatul Firdaus.
Amen.
Momodou Sabally
Read Other Articles In Opinion