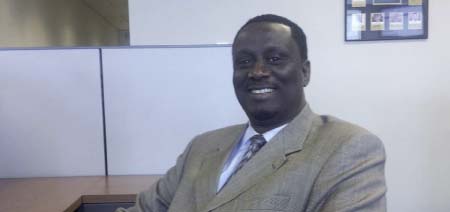 A rising wave of critical thinkers from a new generation in Africa
including African leaders, is poking the geo political and geo strategic sphere of activities with critical thinking, political maturity, science and technology entrenched in believing in oneself.
Africans are feeling and seeing an era where representation is shunning isolation.
A new world order in the womb of necessity the mother of invention.
Statisticians say 67% of Africa's population is below the age of 35 years, our youngsters remain strong pillars of the digital and tech generation.
Science, technology and self reliance grounded in faith must remain the feeding bottles of the new world. Africa has a feeding bottle filled with the milk of a younger and a tech savvy generation.
Partnering with Africa now not later is scientifically and socially wise for futuristic reasons.
An emerging wave of critical thinkers in the circle of Africa's leadership which is propelled by a generational approach or feeling has shown us blinking lights in places like Tanzania, Botswana, Ghana, Rwanda and other parts of the continent. Few days ago brother Macky Sall of Senegal invited US President Donald J Trump to revisit his position as far as cutting aid to the WHO. Such an invitation from brother Macky coupled with President Paul Kagame's invitation to organize a virtual meeting with fellow African heads of state calls for motivation and commendation. Not to exclude efforts being done by other leaders around the continent. In General African leaders have shown leadership in this fight against Covid-19. They are doing so in unity and dedication from a political and scientific approach. None of them is left behind as far as lock downs, sensitization, crises management and so on. It equally shows an Africa that is shifting from being a liability to a serious and dependable partner in both the geo political and geo strategic arenas.
Without doubt other African leaders will follow suit as they are being guided by organisational discipline through consensus.
We will not base it on hope because hope all by itself is not a plan. We will for sure act accordingly without regard to race, faith or origin within Africa itself or beyond.
The world will definitely see an Africa that is completely different from what Bismarch and his "condescending colonial peers" designed for us in Bismarch Germany in 1819.
African leaders particularly those in least developed countries commonly known as the LDCs beginning with my own country The Gambia must take advantage of the IMF debt relief during these trying times. It is a chance for us to set the stage for a robust approach towards production during a post Corona era. That approach must begin now. Capacity building within services and sacrifices must be the guiding principles. We must start saving as much as capital as possible. Priority spending at the moment should only be on COVID-19 which makes it much easier for leaders to discipline and contain all unnecessary travels after bans are lifted. Alongside curtail extravagance from all angles and all sides.
Corona or COVID-19 has definitely changed the paradigm therefore most meetings are on the whole possible without us traveling in and out.
Virtual meetings have proven what many never expected. Our leaders are working and making things happen without leaving their palaces so all ministers and or those who travel a lot should emulate these leaders by cutting our losses short on the expenditure line! Things are moving for every administrative reason thanks to the digital and tech age! Poorer countries have a chance to save a lot by concentrating on only these priority areas.
HEALTH, EDUCATION, AGRICULTURE AND SECURITY.
Travels during a post Corona era must be curtailed as most preliminary meetings can be virtual until the end. Where signing ceremonies are to cap the process one two or three people can travel and come back within 48 hours or not beyond 72 hours! It will then mean cutting down on the number of trips and delegates! On the latter the COVID 19 era could be seen from a philosophical angle as a disciplinary measure for all public servants.
AFRICA HAS SEEN THE NEED TO RISE AND STAND UP NOT STAGGER!
WE AFRICANS MUST SHOW THE WORLD THAT WE HAVE DECIDED TO REFUSE BEING CALLED THE POOREST CONTINENT!
AFRICA IS NOW NOT LATER!
By Essa Bokarr Sy
Analyst Specialising on Security, Diplomacy and Strategies.
International civil servant who served in France, Russia, Central/Eastern Europe, China, USA and Latin America from 1993 to date.
Currently back to serve in Africa again.
Born in The Gambia, West Africa.
Read Other Articles In Opinion