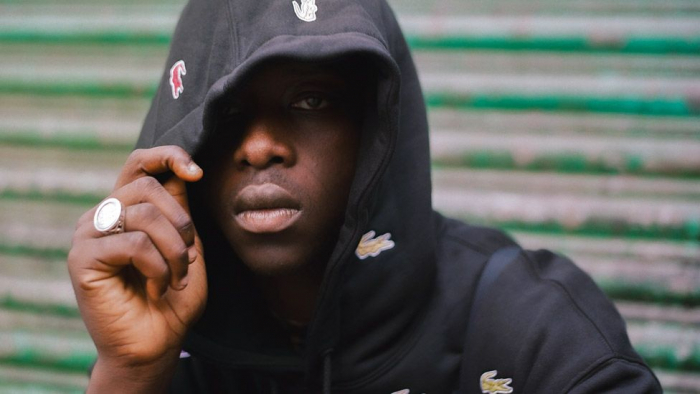 In topping the Sound of 2021 list, Pa Salieu follows in the footsteps of previous winners like Adele, Ellie Goulding and Michael Kiwanuka.
He knows the headlines could have been different, however.
"If I died last year," he begins, reflecting on how he was shot in the head outside a pub in his home city in 2019. "If I actually died - in their eyes, I would be a criminal."
That's how he believes he would have been perceived by the authorities, the press and the outside world.
"'Gang related. Drive-by shooting.' Trust me, the whole perception would be different right now. You would have never heard of me. If you do hear of me, it's, 'That's that kid that died.' 'Gun crime.' 'These foolish youths.' No."
The life Salieu talks and raps about is murky and precarious. He has been in trouble with the law, arrested six years ago for possessing a knife - for his defence, he insists.
"Police used to say I'm in a gang. I wasn't in a gang. I was never in a gang. Because I used to try to survive? I got caught with a knife when I was 17? What, because I'm paranoid of the streets?
"I got shot in the head. People get killed every day for no reason where I'm from. I don't expect no-one to understand."
Forty years after The Specials' Ghost Town painted Coventry as a city in decline, Salieu raps about it as "COV, #CityOfViolence".
But he now wants to be the voice for those who could not make it out, like the two close friends who were killed. "Our voices count," he says.
Salieu's debut mixtape Send Them To Coventry - named after the saying for deliberately ostracising or marginalising someone - can also be life-affirming.
Now 23, he was born in Slough, then spent six years of his childhood in The Gambia before being sent to Coventry at the age of eight. His fresh voice has a lilt that serves to soften the edges of the stories he tells.
Musically, he has more depth and guile than most two-dimensional hip-hop pretenders. His smart wordplay is delivered against an inventive range of backdrops, from the slowed-down siren of Frontline - the song that started to build his buzz early last year - to the soft slow-jam synths of More Paper.
"He has a unique perspective on Britain," says BBC Radio 1 DJ Annie Mac, who was among the 160 tastemakers who voted for Sound of 2021.
"His songs are exquisitely produced, with enough restraint for Pa's voice to shine through and have the space to tell the stories of his life. They are stories of friendship and family, of violence, exclusion and racism, and they act as timeless evidence of British street life at the turn of new decade."
Source: Bbc
Read Other Articles In National News