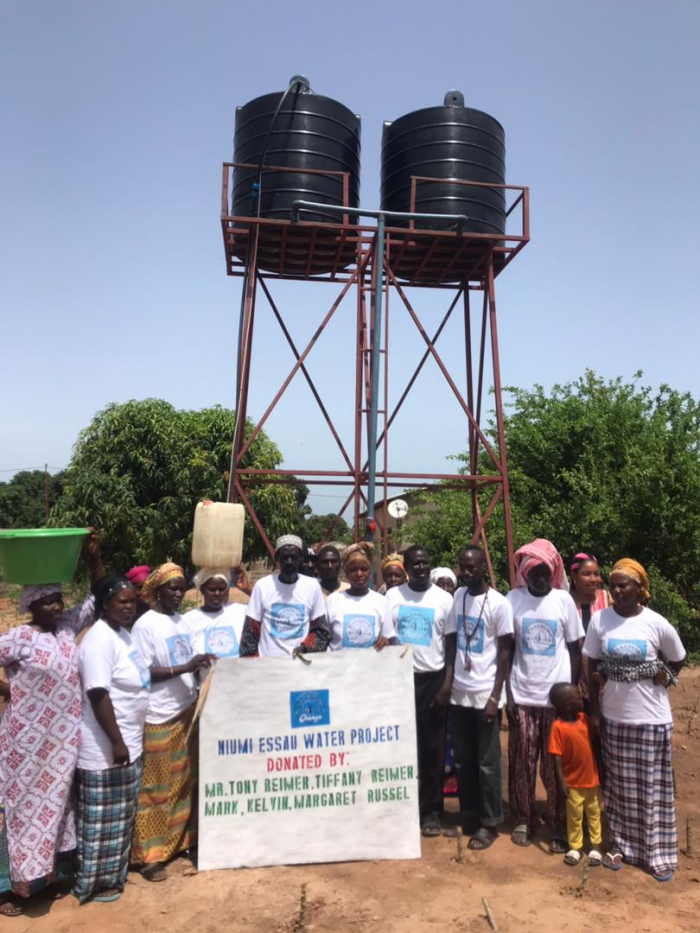 Passport 4 Change was established in 2018 by one Assan Saine in partnership with American couple Mr. Tony Reimer and Mrs Tiffany Reiner. Subsequently, three other American donors including Mark, Kevin and Margaret Russel supported the couple financially to ensure a smooth implementation of the water project.
The organisation is meant to promote grassroots development with special focus on potable water, education, health and other meaningful developments in the society.
Prior to the construction of the borehole, some Essau residents fetched water from a school that is about 200 meters away from their homes, while others fetched from local wells.
In his inaugural statement, Assan Saine, country director for P4C said the project aimed to bring clean and safe drinking water to the community and mitigate the residents' extensive labour in accessing water from far places.
Mr Saine said P4C has realised that many communities lack sufficient potable water affecting peoples' lives and livelihoods and added in this regard that the organisation deemed it necessary to focus on providing potable water to vulnerable localities in order to improve their living condition.
As residents expressed delight on P4C for the humanitarian gesture, Mr Saine advised the residents to take good care of the water facility to ensure sustainability.
"P4C would like to have more projects of water facilities, health, and education and others across the country," he said.
Saine expressed appreciation to the American donors for sponsoring the project. "This project has changed the lives of the community. It could also save the lives of the unborn children," he said.
Buba Ndurr, village head for Essau commended the organisation and its donors for providing access to potable water to the community.
"This project will go a long way in changing the lives of the residents. Because every month I used to spend over six hundred dalasis (D600) on potable water for my family. Therefore, I thank Passport 4 Change and its donors for their support," he said.
He advised the residents to remain united and maintain patience to ensure a sustainable development in the vicinity.
Halimatou Sowe, a resident, expressed delight at the organization for the gesture. She noted that the residents, particularly women, have been suffering from fetching water from faraway places.
Therefore, she said the borehole would now ease their work .
Mass Marong, representative of the Village Development Committee (VDC) also joined others in thanking the organisation for the support while urging the residents to collectively take good care of modern water facilities.
He urged the donors to expand the water project as well as provide a healthcare facility for them.
Read Other Articles In National News