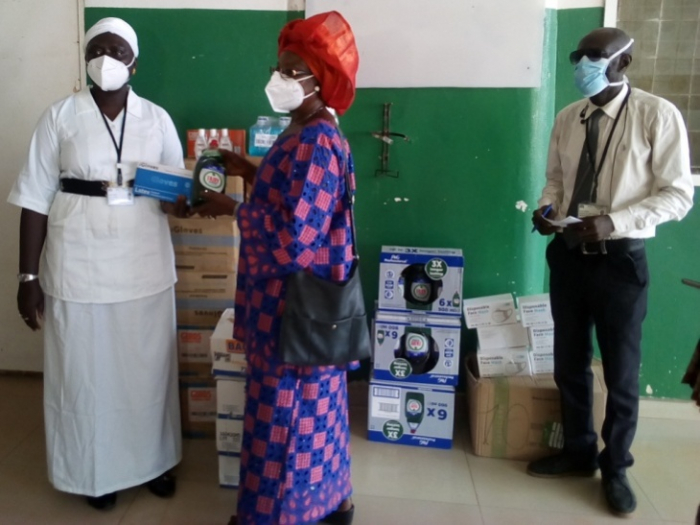 The materials were 7 boxes of liquid soap, 3 boxes of hand sanitizers, 30 boxes of face masks, 10 cartons of gloves and 10 oxygen gasses among other materials to help curb the spread of covid-19 in The Gambia.
At the presentation held at the hospital's ground, Kebba Sanneh, public relations officer at the EFSTH on behalf of the hospital management, board of directors and staff thanked the donors for their generosity.
He called on Gambians to emulate the donors as medical workers these days work under hectic conditions amid covid-19 pandemic.
Mr. Sanneh challenged people to always adhere to WHO's and Ministry of Health's guidelines to protect themselves.
"Coronavirus is killing people all over the world including The Gambia", he stated, saying "we therefore need to be responsible."
Horeja Saine, chief matron, who deputised for the Chief Medical Director of the hospital, said covid-19 is a global pandemic and as such people need to adhere to WHO recommendations.
Mafugi Bojang, registrar, Gambia Nurses and Mid-wives Council, said no donation is small in the fight against covid-19. He thus encouraged others with the will and means to help in the fight against covid-19.
"If caregivers are not protected and assisted in protecting themselves, it will be extremely difficult for them to care for the ill," he noted and thanked the donors for the gesture.
Sheikh Hatab Tamba, second vice president, Gambia Nurses Bantaba Charitable Foundation, highlighted that the aim of the foundation is to create unity among nurses and healthcare workers and harness their collective efforts towards the development and advancement of healthcare in The Gambia.
"We also wish to collaborate with the nurses and mid-wives association and council to build capacities of nurses and mid-wives to ensure effective and quality healthcare service delivery; to raise funds to sponsor health-related project through contributions and organisation of fundraising activities within and outside The Gambia; seek funds, donations and support from NGOs within the country and abroad to consolidate the objectives of the foundation."
He further explained that it is part of their aims to advocate for resources to facilitate infrastructural development and provision of equipment for health facilities to enhance service delivery; to foster partnership and collaboration with government, institutions and associations as well as other entities with similar initiatives.
As covid-19 has hampered global economies and even individual businesses, Tamba acknowledged that The Gambia is a resource poor country and as such there is need to put all hands on deck in the fight against the pandemic.
Matron 1, Haddy Lemon assured donors that the materials would be put to good use.
Read Other Articles In National News