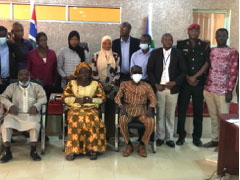 The HIV/AIDS national response is a country program within the context of mainstreaming HIV/AIDS in the national development agenda. The Gambia is strongly committed to stemming down the rapid growth of HIV infection. It isagainst this background that the National Aids Secretariat decentralised its structures by establishing the Municipal and Regional AIDS coordinators in all the six regions across the country.
Binta Janneh-Jallow, deputy mayor and chairperson of the Municipal Aids committee said part of her mandate includes coordinating HIV/AIDS response activities at regional municipal level as well as to mobilising stakeholders to help coordinate HIV response activities within the western one health region ( KMC, BCC, Kombo North).
"The committee is established with a view to mobilize resources, initiate and implement strategies to help effectively and efficiently curb the spread of HIV within the Greater Banjul Area and its satellite settlements," she explained.
Mrs Janneh-Jallow thanked members for attending and making good recommendations in fighting HIV virus in The Gambia.
Gibril Sanneh, Municipal Aids Coordinator said his expectation is to see a vibrant and efficient HIV regional committee that is dynamic and helps in initiating to spread information that will empower people to live healthy without contracting the HIV virus.
Read Other Articles In National News