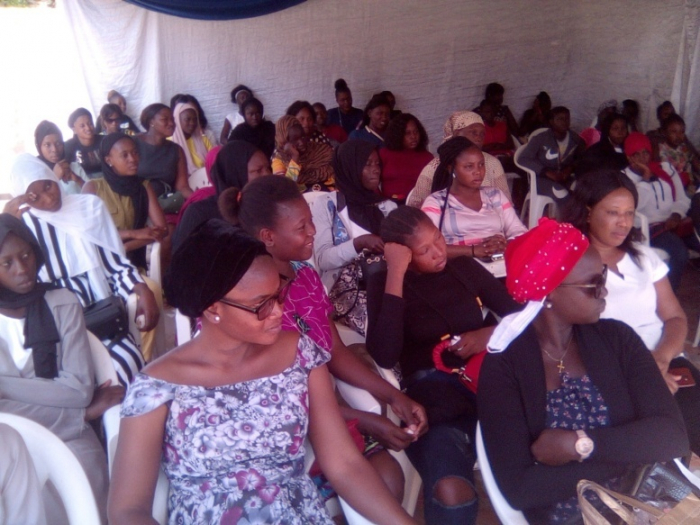 The Youth Empowerment Project (YEP) in its four-year project to empower Gambian young people to curb irregular migration is sponsoring the sixty students.
The vocational institution offers major skills courses such as tailoring, cookery, hair dressing among other professional skills. The school aims at providing skills and knowledge for Gambian youth to live and work in the country and stop irregular migration.
Mrs Jean Able- Thomas, CEO FSDC commended students for their intention to pursue professional skills in her school.
She called on the students to maintain discipline and patience within and outside the school premises to help them attain the sustainable development goals they are yearning for.
"If you humble yourselves and maintain discipline everyone will come near you and would like to be with you but otherwise people will run away from you," she told the youth.
Students of FSDC habitually dress in complete white and in a professional manner like other public institution.
In this regard, Mrs. Able Thomas urged the students to always dress with modesty at the back of their minds, especially when going to school, noting that the school does not compromise with standards in all aspects.
"This is not a fashion school. But a school for you to learn," she said.
Josephine N. William, an outgoing student described FSDC as a very good institution, saying its courses are difficult but worth pursuing. The institution is good and can equip you with the requisite skills and knowledge you need," she told students.
She said beside gaining skills, the institution trains students to be patient and professional as well as work effectively.
"When I came here, I was short tempered but now I have changed for good," she said.
Mr Ola, teacher at the institution said the importance of vocational skills cannot be overestimated, noting that most of the richest people cross the world are entrepreneurs.
He therefore advised students to work tirelessly to complete their courses to ensure they have skills and knowledge that will make them independent, job creators and contributors to national development.
Read Other Articles In National News