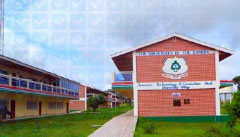 This is the first international conference organised by the UTG under the theme: "Covid-19 Pandemic, Economics, Health and Education Impacts and Recovery".
The theme of the conference was motivated by several reasons, one of which is that the pandemic undoubtedly posed one of the greatest health challenges of the 21st century with responses that vary across the globe with Gambia not an exception.
"The Gambia and by extension the world, have in the last two years not only experienced an overwhelmingly unprecedented challenge because of the COVID-19 pandemic but subversion which has changed the dynamics of the status quo and has registered mountainous impact on every facet of our lives and whose story would be told for generations to come," said Prof. Pierre Gomez, the UTG's acting VC.
According to Prof. Gomez, it is against these backdrops that this year's theme, premised on 'Covid-19 Pandemic- Economics, Health, and Education: Impacts and Recovery', is apt and could not have come at a better time.
He revealed that the goal of the conference is to create a platform for academics to discuss their research works on issues related to the pandemic to inform policy.
Throughout history, he said, when we face challenges that are mountainous such that they threaten the basic fabric of our existence, researchers have always taken the lead in the efforts to ask the right question and proffer solutions.
The UTG acting VC further disclosed that over D16 million was distributed to lecturers as research grants in order to boost their research capabilities, adding that this year, D43 million is reserved for that purpose.
"I want to give you the assurance that at the UTG, we are always willing to support initiatives that are geared towards transforming the research landscape in The Gambia as we work towards becoming the powerhouse for innovation and research in The Gambia," he affirmed.
Mucktarr M.Y. Darboe, director of Science, Technology and Innovation at MoHERST, said his ministry supported and facilitated extensive stakeholder engagements through meetings, worked with relevant partners, facilitated data access and negotiated data affordability for faculty and students in tertiary and higher education in the country.
He added that during the difficult and unprecedented times of Covid-19, the government through MoHERST, initiated a stimulus package for Gambian government sponsored and non-government sponsored students studying abroad.
According to him, the package has been the government's contribution towards the sustenance of those students during the trying times of the pandemic.
Read Other Articles In Headlines