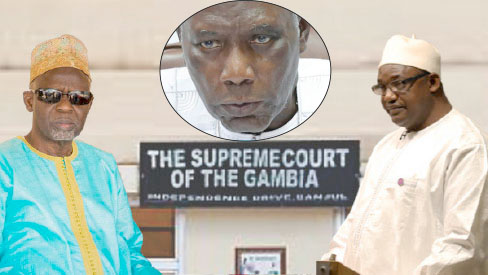 According to the UDP leader, Ousainu Darboe, after they had mounted an investigation, they found a series of malpractice before and during the election.
"We discovered a great deal of malpractice during the campaign and before the campaign. Because of our discovery, we decided that we will go to court and challenge the election of President Adama Barrow on grounds that the law recognises.
Mr. Darboe said they have submitted to court for the termination of results on the grounds that President Adama Barrow's election is invalid by reason of corrupt practices; that Adama Barrow's election is otherwise invalid; that the votes cast in favour of Adama Barrow in all regions are void by the reason of corrupt practices and election is otherwise invalid by reason of non-compliance, which affects the results for Adama Barrow," the opposition leader added.
"These were the issues we presented to the court for termination based on facts. We deposited in court documentary evidence and this evidence includes videos and we had over 200 pages of evidence that we deposited in court. However, the Supreme Court decided that the petition should not continue because of the non-compliance of Rule 11 of the Elections Petition Rules.
"This was a petition meant to regularise the rules for level playing field."
The UDP leader held that these "incidents of corrupt practices should be exposed to the public so that the public would know that we didn't just go to the court because we're litigious; so that the public would know that we didn't just go to the court because we wanted to go to court: We went to court because we had substance. We went to court because we had hard evidence," part of which were clear videos of the electoral corruption and malpractices. He spoke of NPP officials speaking to their crimes – by violation of Section 116 of the Election Act by donating or giving gifts to the people to vote for President Adama Barrow.
Also revealed was IEC carrying out registration in Kombo South after closure of registration and the party has revealed through its leader that those evidence will be shared out to the public at the most appropriate time.
Read Other Articles In Headlines