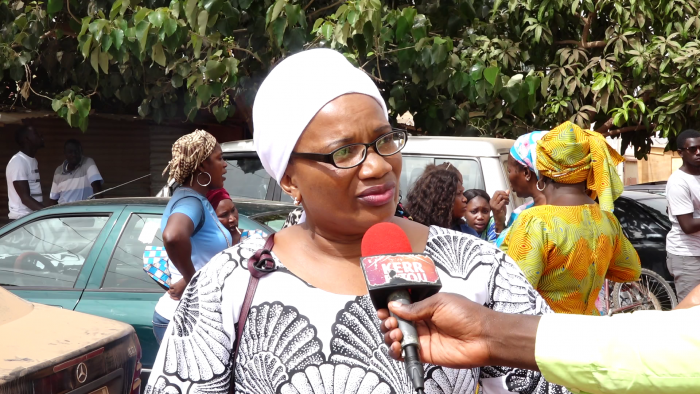 This comes after a violent clash on Tuesday between the Police Intervention Unit (PIU) and the mob that gathered in Salaji, as officials of the Department of Physical Planning demolished structures they say falls within government reserve land. Over a dozen people were taken into custody and remanded at Brusubi Police Station.
The community alleged that they have not seen any community development in the area and instead private individual mostly senior government officials buying part of the land in question from encroachers to put up their houses.
In an interview, Fatou Jaw Manneh, one of those arrested, said they were arrested because they've come to ask the people sent by Physical Planning to stop the demolition of their structures.
"The land situated in Salaji belongs to the community of Sukuta, and it is our land. Government is encroaching on our land. They will come with their master plan, promising us schools, markets, cemetery and hospitals and later distribute it to other individuals or sellers."
She added: "The government was on a rampage, who came to destroy our homes. They fired teargas on us and one of those arrested is still in pain as a result of the teargas."
According to her, they don't have anywhere to go to except their land in the community.
She thus advised government to stop encroaching and selling their lands with the cheap notion that it is a government reserve or all lands belongs to government.
"If the state wants a land there are procedures to follow. This is a Kombo issue and we as people of Kombo will discuss about the issue."
She added they will go extra mile to even hire lawyers and go to court, so that those who sold their lands inappropriately pay for the crime.
For her part, Mbi Kuru, a singer, who was also arrested stated that they are now left with nothing as all their lands left by their families, have been taken away and sold to other people.
"We as the people of Sukuta have put so much efforts and work on this land and there was no support from the police or physical planning. We now don't have anything in Salaji, because all the lands that our fathers left for our families are all taken away by physical planning and other encroachers and sold it to others."
"Most of the people in Sukuta are renting with their families, while others don't even have a proper home for their families. All we want now is to take back our lands and protect them from encroachers."
Abdoulie Bojang, one of elders in the community, spoke at length on the historical background of the land in question, recalling that in 2001 the then Alkalo Amadou Hawa Cham had relayed a message from government; saying government had asked those developing lands at Nema Su to stop developing them because the government had taken them over.
Bojang maintained that all these confusions about land issues in Sukuta is caused by hypocrites within the community
"We all know that Physical Planning will not just come in Sukuta and start selling our lands but there must be some people within the community, who serves as a link. We will have a community meeting over the issue and will come out with a solution about the problems of lands in Sukuta."
He observed that most of the lands belonging to his families are all taken away by encroachers notably by physical planning.
Read Other Articles In Headlines