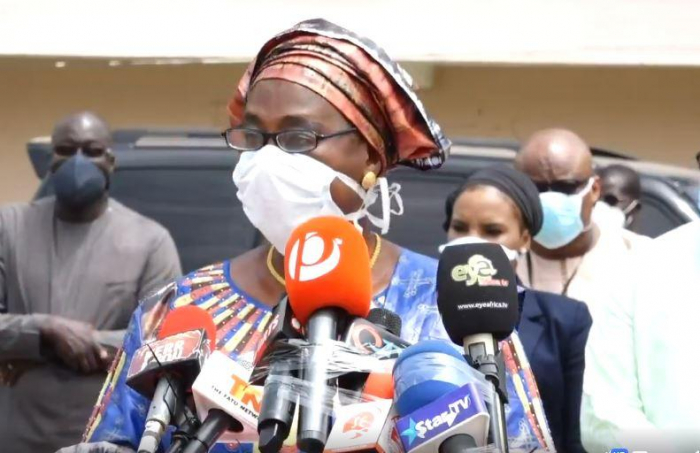 VP Touray made these remarks yesterday, Wednesday at McCarthy Square during a press conference aimed at updating Gambians on the state of Government's Covid-19 Food Aid distribution.
She described food and nutritional security as the foundations of a decent life, a sound education and means to achieve the National Development Goals.
Dr. Touray noted that the human cost of food crisis in times of emergencies could be enormous, adding that if the current situation is left unchecked, it could further deepen the poverty and food insecurity situation of the country.
"The Gambia has witnessed a serious threat to nationhood as the covid-19 crept in with associated dangers of consuming the most active population and bringing all economic activities to a standstill", she pointed out.
According to her, as we move through the ravages of covid-19, more remains to be desired for.
She highlighted that as we have learnt lessons from the exercise, it is time to ensure "we have means to feed ourselves as well as safeguard the poorest and most vulnerable."
"We must transform our agricultural development process, markets and how food is distributed", she added, saying that is one of surest means of eradicating extreme poverty and hunger and fulfilling our development aspiration as a sovereign state.
She further stated that to find long-term solutions to our food insecurity, we need predictable increases in funding to develop sustainable food systems that can withstand shocks such as an economic crisis or disease pandemic that cause economic paralysis.
Dr. Touray said government is determined to ensure a coordinated approach to food security issues in particular, at all levels.
She expressed gratitude to President Adama Barrow for providing the enabling environment that led to the successful conclusion of one of the biggest food distribution exercises the country has ever conducted in response to the food insecurity challenges of the pandemic.
It could be recalled that, in anticipation of the short-term impact of the covid-19 pandemic, the government of The Gambia responded with the greatest-ever food assistance operation that targeted almost 84% of the urban population and 100% of the rural population.
Read Other Articles In Headlines