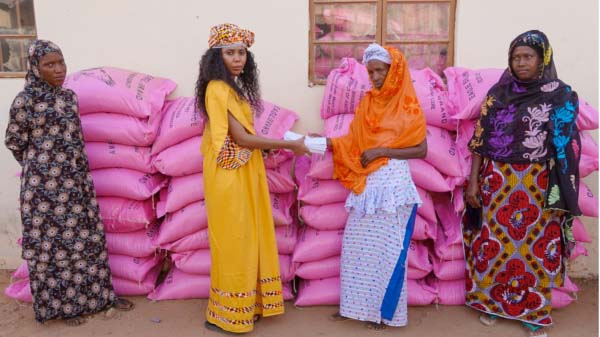 Jaha, also, as the founder of Safe Hands For Girls, an NGO focused on protecting young girls and women from the practice of FGM in all its forms.
The communities that benefited from this magnanimity include Kiang West, Jarra Sankuya (LRR), Farafenni, Conteh Kunda, Darurlilwan (NBR), some households in KMC, Gambisara, Basse and Badareh (URR). Each beneficiary household was given D500 cash. This support has also been extended to communities in Foni, Kombo South (WCR) and Upper Nuimi (NBR).
At the launch of the second phase of the rice distribution, Jaha, who was recently named the ambassador of L'Oreal Paris, told journalists that she self-funded the whole initiative as a way of giving back to her community, adding that she was inspired by her mother who she described as a hustler. "I know how she struggled and what she had to do in order for her to sustain our family," she said.
Jaha, also the UN Women Regional ambassador for Africa, described how passionate she is about helping women especially the most vulnerable, saying it's much more than ending FGM and child marriage, "we have to look at the root cause of these issues" she pointed out.
As part of her plans to aid women, Jaha disclosed that she wants to embark on an emergency basic income programme for women, noting that Safe Hands would also institute training for these women to teach them how to invest, save money and how to make something out of it.
She advised young Gambians, women in particular, to believe in themselves and realise that everything in life is attainable.
Mam Lisa Camara, the national coordinator Safe Hands For Girls, said they feel honoured to work with Jaha, "even though she is the founder of the organization, I feel it is noble of her to take her personal money to give back to the community."
She noted that the rice distribution in Kombo South was the second phase of the initiative with the first phase being held in Jaha's own community, Gambisara. She also disclosed other communities they have been to, adding that Jaha dug some boreholes for some women in a garden in Farafenni.
Lisa said the initiative is a much needed help at this point especially for women led households and widows. She thanked the partners for making sure that they do not duplicate efforts of other people by ensuring that they donate to people that have not received any aid.
Alkalo Samba Jallow of Rumba welcomed the initiative and thanked Jaha for the help rendered to the community. "We are praying for God to give you more wealth and blessings."
Read Other Articles In Headlines